Allergy friendly Gluten Free Chocolate Chip Cookies? Yes please! These delicious cookies are free of soy, nuts, eggs, and dairy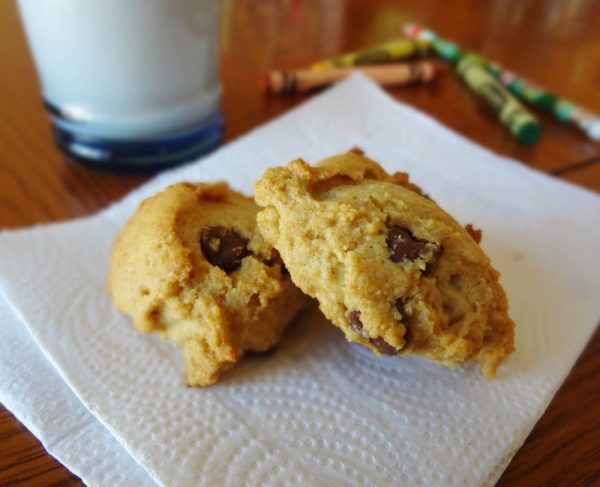 I have noticed something about many of my posts (especially when it comes to desserts): I tend to begin with some version of the words "I love…(insert dessert name)". Hmm…maybe it's time to try a new writing tactic?
But I guess it's better than any negative things I could say. But really, who has negative things to say about healthy dessert? Not me!
I have been on a quest for gluten free chocolate chip cookies that are dairy free, allergy friendly, and not loaded with fat and sugar. I finally hit on a great recipe that uses flax meal to keep the cookie moist and soft without too much oil.
Out of the oven, these have a nice crumb on the outside and a nice tender center with lots of gooey chocolate chips.
I am a soft cookie person, so these are perfect for me. You can slightly under-bake these if you like the cookie-dough feel in the middle, and make sure to store these in an airtight container to keep their softness.
But if you are a crunchy cookie person (like my husband), try pressing the dough flat, bake a little bit longer, and leave them out on a baking rack overnight. This should make them nice and crunchy without altering the recipe.
I use this trick when I make cookies so I can have soft ones and my husband can have crunchy ones from the same recipe: it works!
If you love thinner and crispier chocolate chip cookies, check out our classic chocolate chip cookie recipe!
Check out our other great cookie recipes:
Soft Gluten Free Chocolate Chip Cookies (Dairy Free)
Allergy friendly Gluten Free Chocolate Chip Cookies? Yes please! These delicious cookies are free of soy, nuts, eggs, and dairy
Vegetarian, Gluten-Free; Free of: dairy, corn, soy, eggs, nuts, cane sugar
Print
Pin
Rate
Instructions
Preheat oven to 350 degrees F. Prepare a baking stone or line a cookie sheet with parchment.

In a small bowl, whisk together the brown rice flour, salt, and baking soda. Set aside.

In a medium to large bowl, whisk together the milk and flax meal. The flax meal will start to gel and thicken.

With a hand blender, beat in the oil, honey, vanilla, and Stevia (if using) until a creamy consistency.

Add the flour mix to the wet ingredients and blend with the hand blender until mixed well (the dough will be quite firm).

Add in the chocolate chips and mix in by hand.

Drop cookie dough by Tablespoonfuls onto cookie sheet.

Bake for 10 minutes until golden.

Let rest on baking sheet for about 5 minutes, then cool completely on a wire rack.

Enjoy!
Nutrition
Calories:
73
kcal
|
Carbohydrates:
7
g
|
Fat:
4
g
|
Saturated Fat:
1
g
|
Sodium:
61
mg
|
Potassium:
43
mg
|
Sugar:
4
g
|
Calcium:
14
mg
|
Iron:
0.2
mg
Did you make this recipe?
Share a photo on Instagram and tag us @TheFitCookie!
Sarah Jane Parker is the founder, recipe creator, and photographer behind The Fit Cookie. She's a food allergy mom and healthy living blogger based in Wyoming. Sarah is also an ACSM Certified Personal Trainer, ACE Certified Health Coach, Revolution Running certified running coach, and an ACE Certified Fitness Nutrition Specialist