Cool down with this refreshing and low sugar Raspberry Lime Sparkling Water made with fresh fruit and sparkling water! This drink is perfect for sipping anytime or serving at parties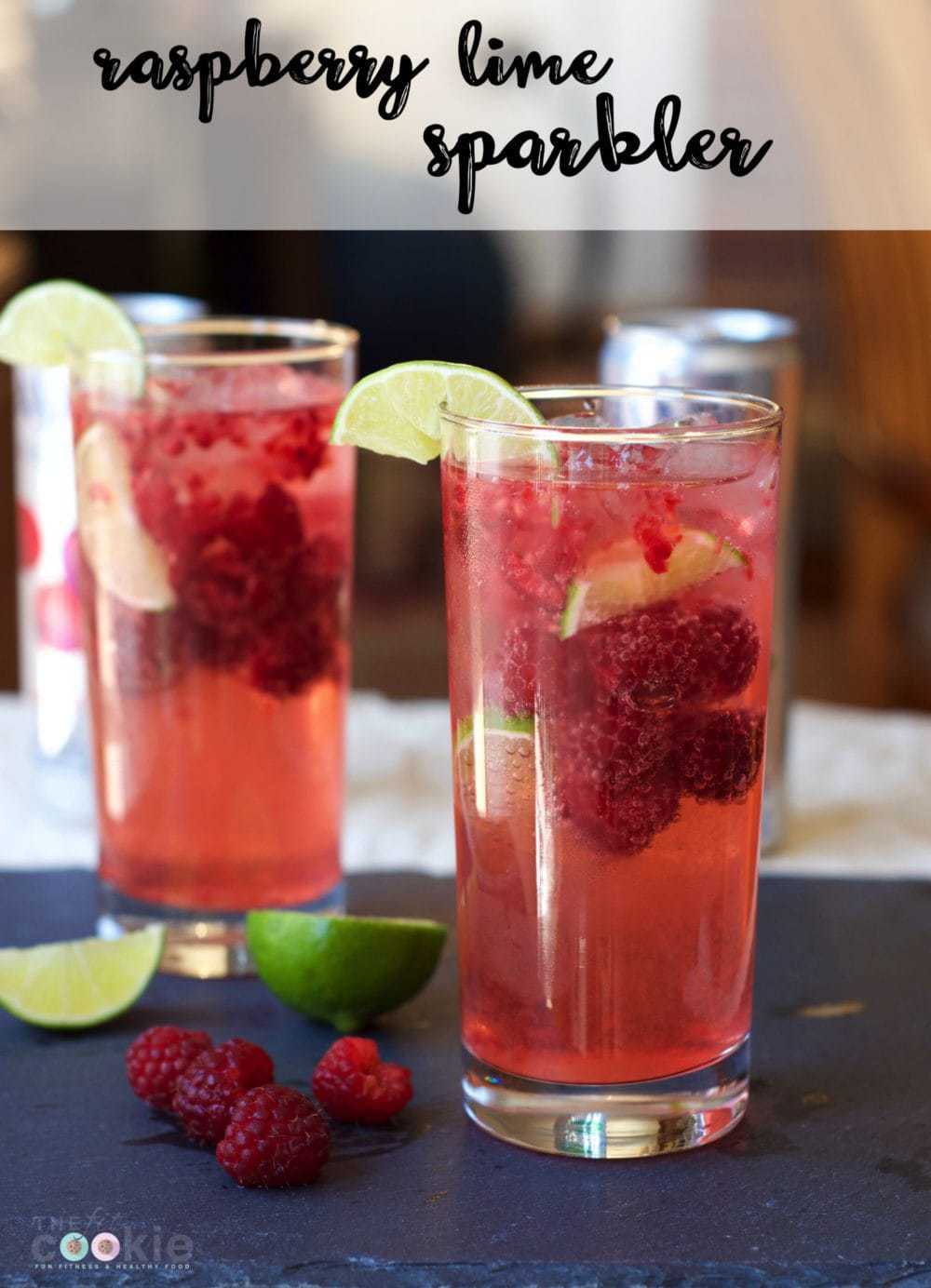 Hey, friends! Late Spring and Summer is usually a slow time for food bloggers, but since I'm also a fitness blogger, things have been picking up for me a bit with race and outdoor season finally here.
I have been busy moving outside a lot and working on creating some fun outdoor bootcamp classes (yay!!), so it's been a little while since I posted a great recipe. With the weather heating up, a cool drink recipe sounded perfect!
When we vacationed in Mexico last year, one of my favorite drinks was sparkling water with lime. It was the perfect healthy drink for vacation: simple, calorie-free, refreshing, and allergy-friendly. Yum! I could drink them all day long and not worry about sugar overload and it kept me hydrated in the heat.
If you're looking for a healthy and bubbly drink this summer that will keep you hydrated, then check out DASANI® Sparkling at your local Walmart store! It's just like my favorite vacation drink, but with more fun flavors. Walmart carries them at a great price, so you can pick up a couple 12-packs for recipes, barbecues, picnics, or just because.
At our local Walmart, the DASANI® Sparkling can be found in a mid-aisle display near the soda and chips aisle (they even have a tropical flavor!).
If you're trying to stay on track with your diet goals this summer, here are a few tips for hydrating the healthy way whether you're on vacation or working in the heat:
Go light on caffeine: caffeine acts as a diuretic, so keep your caffeine intake within moderate limits during hot spells to keep from getting dehydrated
Aim to drink half your body weight in fluid ounces: I've mentioned this before a few times since this is a great general rule for fluid intake. For example, if you are 150 pounds, aim to drink 75 ounces daily. This amount may go up, too, if you are working out in the heat
Jazz up your water: if you get tired of plain water, add some zing to your water with pieces of fruit, drinking sparkling water (like DASANI® Sparkling), and herbals teas.
Get some electrolytes: if you are working out in the heat or sweating a lot, replace the minerals lost with electrolytes. Choose something that is low sugar and has at least sodium and potassium, ideally one that also has magnesium and trace minerals as well.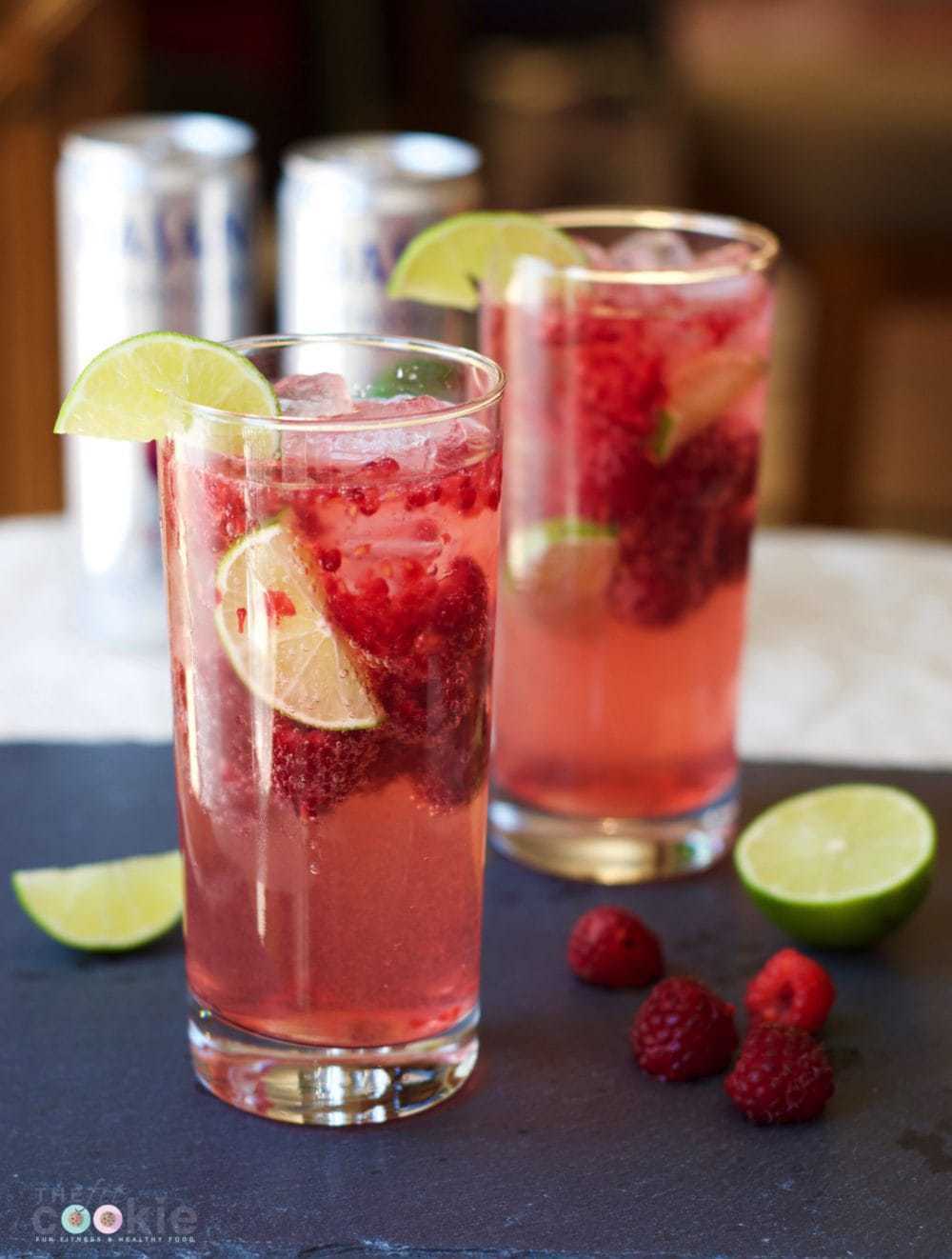 If you're craving some cool refreshment during the summer heat, choose a calorie and sugar-free drink like DASANI® Sparkling so you can stick to your fitness goals while staying hydrated. In the spirit of our vacation last summer since we're missing the beach and sand, I created a simple and diet-friendly sparkler you can enjoy anytime – beach or no beach!
DASANI® Sparkling offers a flavorful beverage for those looking for healthy drink options. Get a hint of flavor with some refreshing bubbles, and no calories! They have relaunched their flavors in sleek cans with updated designs for a slim and classy look.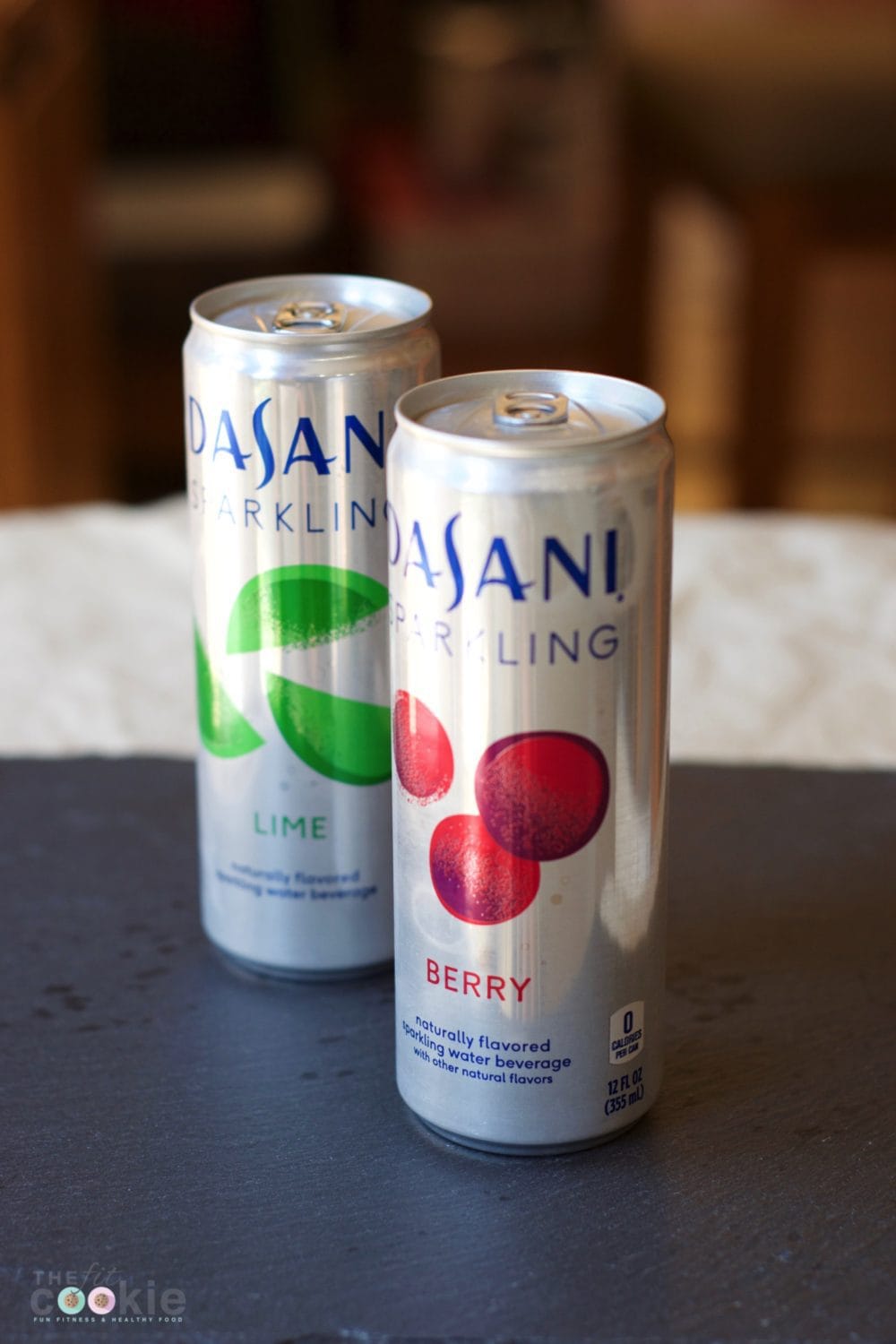 Time to make a cool, sparkling drink! Using one of my favorite fruits (raspberries), I whipped up this fun and refreshing Raspberry Lime Sparkler. Take a little break for bubbles and stay healthy and hydrated.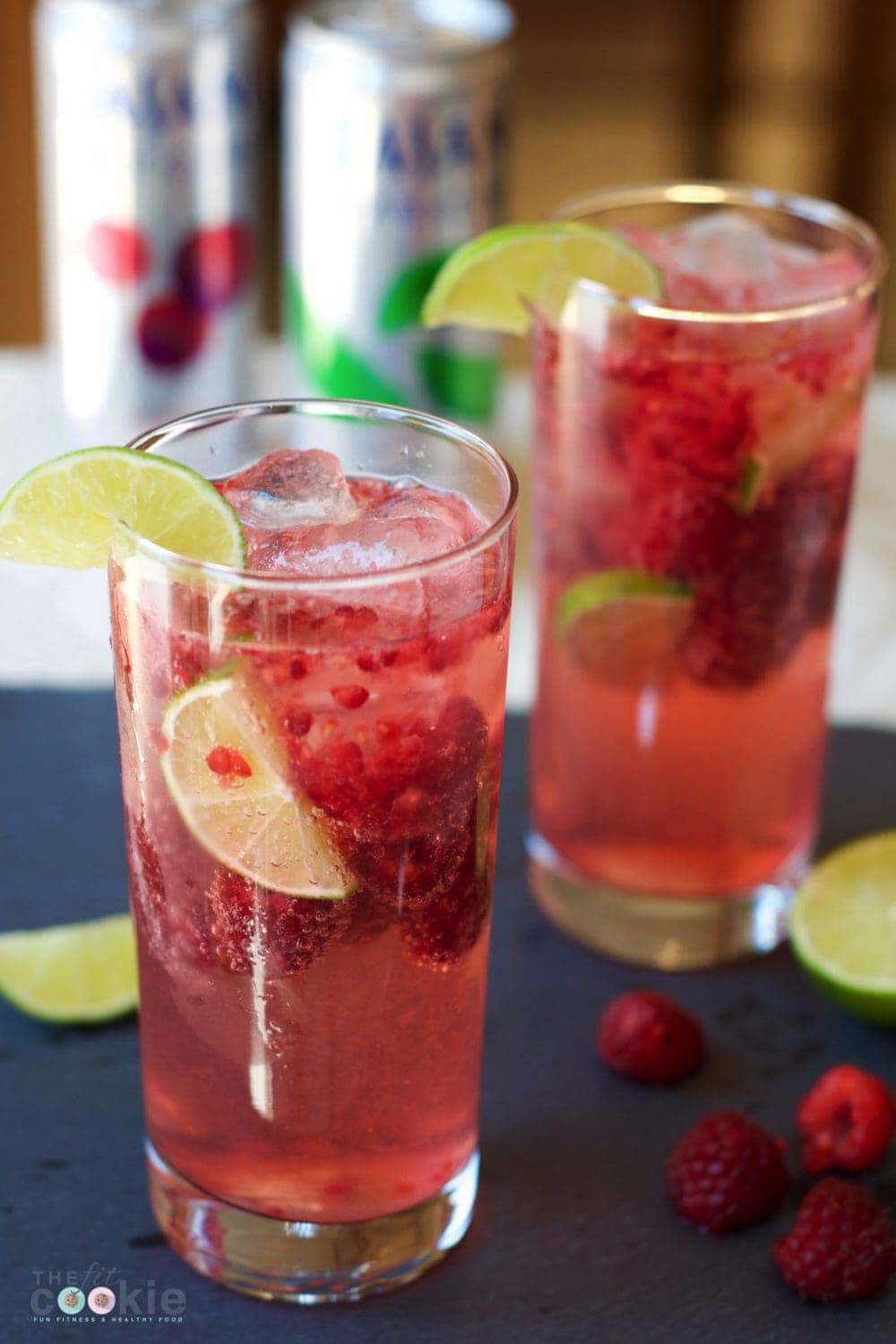 Check out our other cold drink recipes!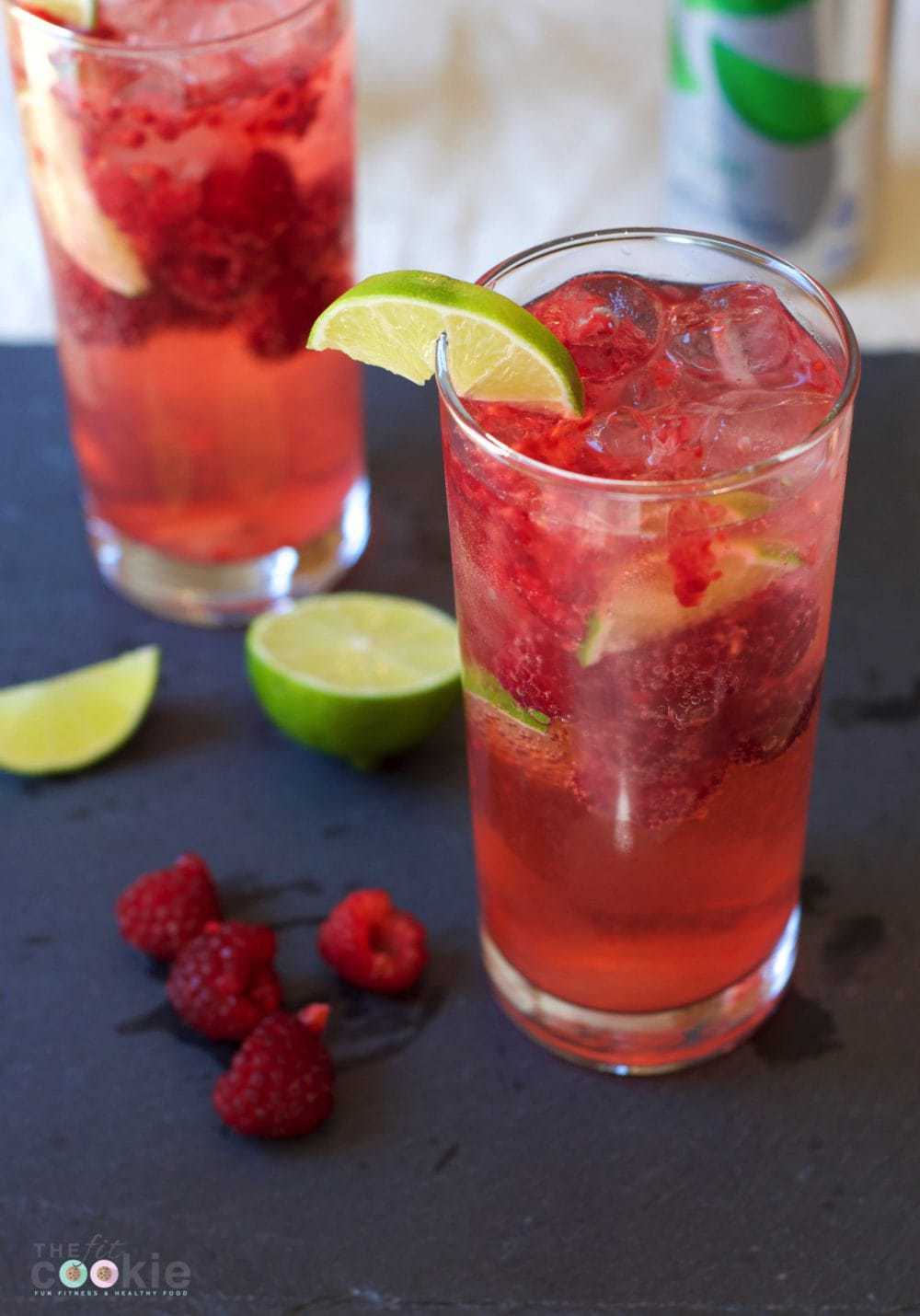 Raspberry Lime Sparkling Water Mocktail (Low Carb)
Cool down with this refreshing and low sugar Raspberry Lime Sparkling Water made with fresh fruit and sparkling water! This drink is perfect for sipping anytime or serving at parties
Grain free, vegan, gluten free, sugar free
Print
Pin
Rate
Instructions
Cut the lime into 4 pieces

In a small pitcher, squeeze 1/4 lime into the pitcher, then add 1/4 cup raspberries and mash together

Add the lime sparkling water and the raspberry sparkling water to the pitcher with the lime and raspberries and stir gently to mix. Add liquid stevia to taste and stir again

Place 1/4 cup raspberries in each glass, then top with about 1/4 to 1/3 cup ice

Pour the sparkling water mixture over the ice and raspberries in each glass, add a lime slice or 2 to each glass, then garnish with lime slices and serve immediately

Enjoy!
Nutrition
Calories:
27
kcal
|
Carbohydrates:
7
g
|
Protein:
0
g
|
Fat:
0
g
|
Saturated Fat:
0
g
|
Cholesterol:
0
mg
|
Sodium:
0
mg
|
Potassium:
83
mg
|
Fiber:
3
g
|
Sugar:
2
g
|
Vitamin C:
17
mg
|
Calcium:
17
mg
|
Iron:
0.4
mg
Did you make this recipe?
Share a photo on Instagram and tag us @TheFitCookie!
Sarah Jane Parker is the founder, recipe creator, and photographer behind The Fit Cookie. She's a food allergy mom and healthy living blogger based in Wyoming. Sarah is also an ACSM Certified Personal Trainer, ACE Certified Health Coach, Revolution Running certified running coach, and an ACE Certified Fitness Nutrition Specialist