If you're working on reducing sugar in your diet but still enjoy a drink now and then, here's an Easy Lower Sugar Moscow Mule Cocktail that has lower sugar and calories than a traditional Moscow Mule but still tastes delicious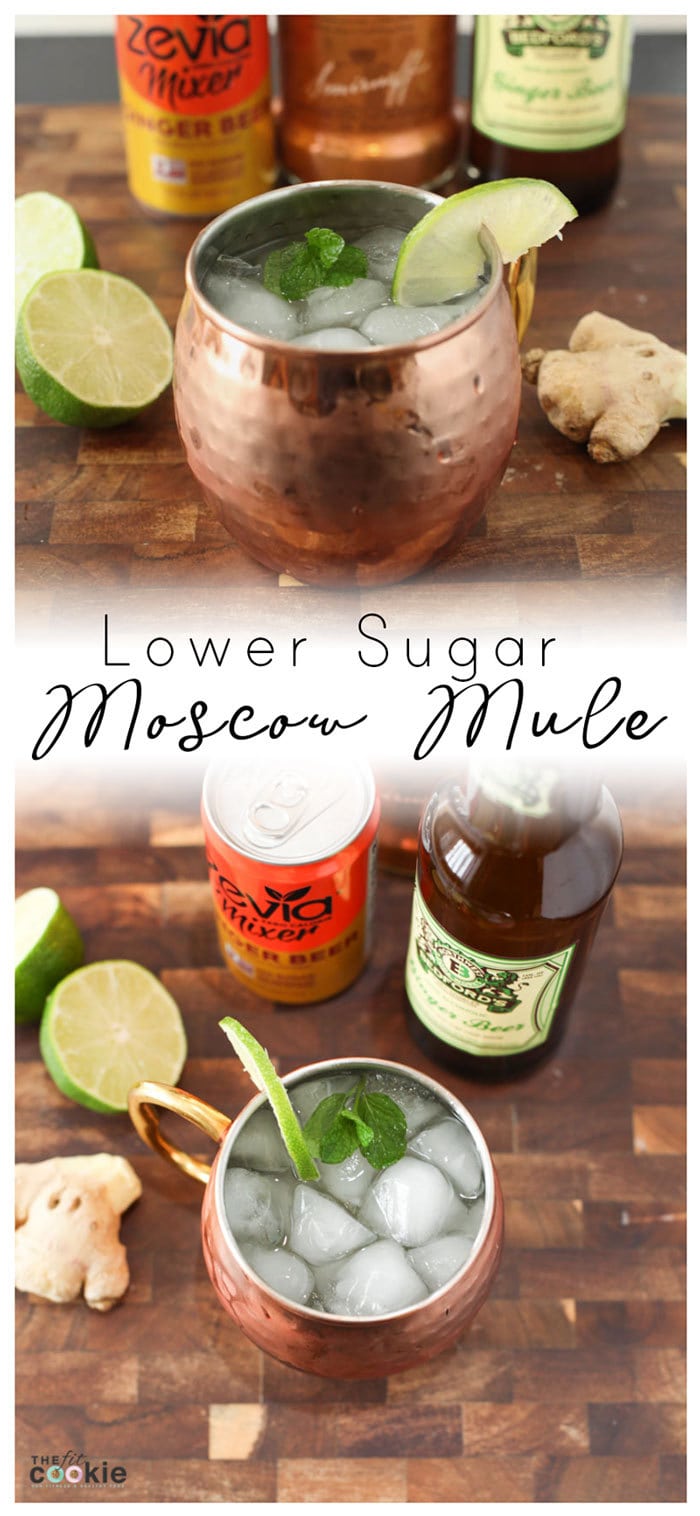 Hey friends! After 7 years of blogging, it's hard to think that I still haven't posted certain recipes on The Fit Cookie. But after all that time, this is the first actual cocktail recipe I've ever posted on our website.
We've posted a couple mocktail recipes before (I don't really create too many drink posts, honestly), but have never posted a cocktail recipe with alcohol. This one is the first!
But with the holidays coming up and New Years soon, this seemed like a perfect time to post a lower sugar and lower calorie cocktail recipe!
One of the reasons we haven't posted too many recipes with alcohol in them is because I really don't drink too much at all, and most alcoholic beverages have something in them that bothers my IBS and my allergies (not to mention the alcohol itself can sometimes be an issue).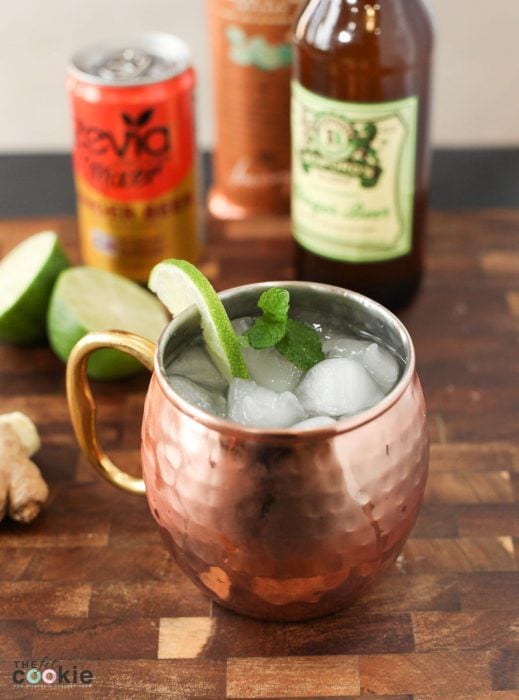 But I occasionally like to have a sweet drink like this Lower Sugar Moscow Mule as an after dinner treat instead of dessert. This still isn't completely sugar free, but it is lower in sugar than most Moscow Mule recipes so you can shave off some calories and sugar from your favorite drink.
We recently discovered the Smirnoff Moscow Mule flavored vodka that makes it so easy to create your own Moscow Mule drinks. I checked online for the ingredients and nutrients in the vodka, and the flavored vodka itself has no sugar in it or added to it until you add your ginger beer.
Reducing the sugar in a Moscow Mule and choosing ginger beer
The Smirnoff Moscow Mule flavored vodka makes mixing up your own ginger lime cocktail really easy! If you didn't care about calories, you could just mix 8 ounces of your favorite ginger beer with a shot of this and it tastes great.
But since this is one of our favorite drinks, I wanted to make this with a bit less sugar and calories. I rarely drink at all, but when I do, I try to make it something that has very little yeast in it.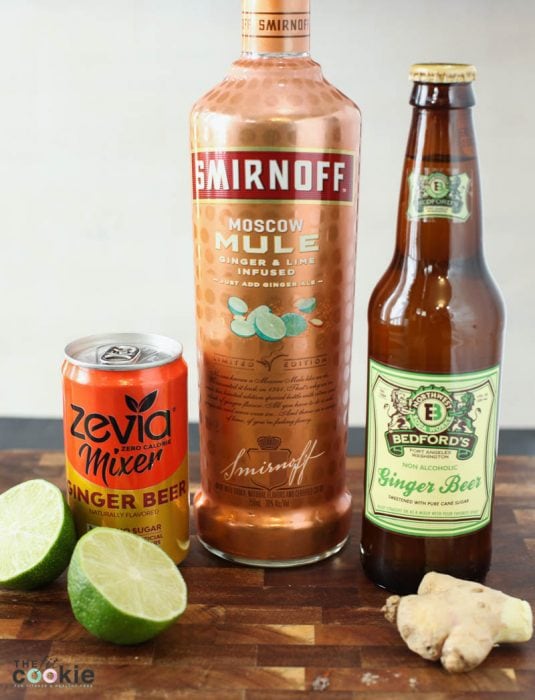 My Moscow Mule recipe has a bit less sugar than the regular version of the drink, and it's not as strong as some of these drinks. Some recipes for Moscow Mule drinks call for only 4 ounces of ginger beer to one shot of vodka altogether, so this drink isn't as strong (which I prefer).
I have tried different kinds of ginger beers in this recipe, but we settled on the Bedford's ginger beer was great in this. We both loved the Bundaberg ginger beer, but I couldn't have too much of it since it has yeast (I have a yeast allergy).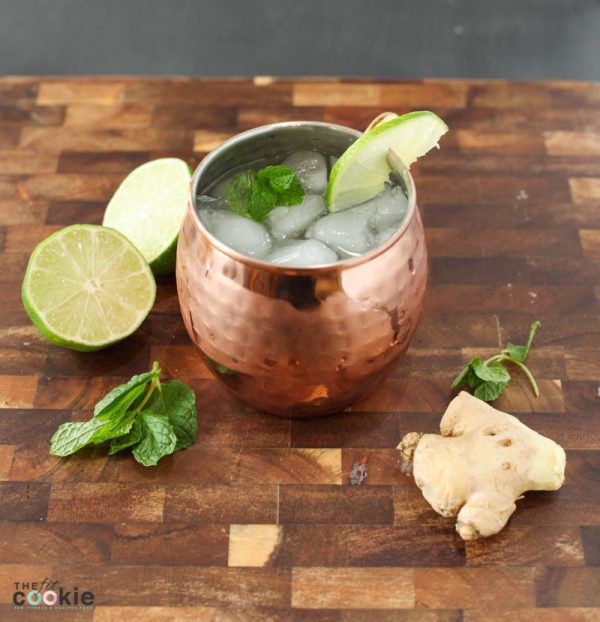 The Cock and Bull ginger beer was alright, too, but the ginger was a bit too strong for us by itself. But since you'll mix it with the Zevia Mixer Ginger Beer, you can always use the Cock and Bull Ginger Beer for this recipe and skip adding the extra bit of ginger.
If you want this drink to be completely sugar free and only 80 calories, you can make it with just the Zevia Mixer Ginger Beer. We didn't personally like the taste of the Zevia ginger beer alone, but it tastes good mixed with a high quality ginger beer like Bedford's or Bundaberg.
I decided to mix the Zevia ginger beer mixer half and half with a great ginger beer (with no high fructose corn syrup) and it's delicious! A great way to cut down on the calories and sugar without sacrificing taste.
Check out our other cold drink recipes:
Lower Sugar Moscow Mule
If you're working on reducing sugar in your diet but still enjoy a drink now and then, here's an Easy Lower Sugar Moscow Mule Cocktail that has lower sugar and calories than a traditional Moscow Mule but still tastes delicious
Vegan, lower sugar
Print
Pin
Rate
Instructions
Using a ceramic mincer, mince a very little bit of fresh ginger and add to a copper mug (I only used a pinch of minced ginger).

Squeeze a little of 1 lime slice into the copper mug with the ginger, and add the slice to eh cup.

Top the bit of ginger and lime with some ice, and stir in the ginger beer, Zevia mixer ginger beer, and the shot of Moscow Mule flavored vodka.

Garnish the mug with a sprig of mint and a slice of lime. Serve immediately
Notes
The nutrition notes in this recipe are calculated using Bedford's Ginger Beer
Nutrition
Calories:
187
kcal
|
Carbohydrates:
27
g
|
Protein:
0
g
|
Fat:
0
g
|
Sodium:
23
mg
|
Sugar:
27
g
|
Vitamin A:
0
IU
Sarah Jane Parker is the founder, recipe creator, and photographer behind The Fit Cookie. She's a food allergy mom and healthy living blogger based in Wyoming. Sarah is also an ACSM Certified Personal Trainer, ACE Certified Health Coach, Revolution Running certified running coach, and an ACE Certified Fitness Nutrition Specialist