Skip the store bought coffee syrup and make your own at home! Our Homemade Vanilla Coffee Syrup is easy to make with only 4 ingredients. This also works great as a homemade pancake syrup when you add maple extract!
Hey friends, we're back with another great recipe for you: homemade coffee syrup and pancake syrup!
This easy syrup recipe was one we used for pancake syrup at our house when we were growing up, except we'd cook up a larger batch and put maple extract in it.
Sometimes we'd get fancy with a mix of vanilla and maple, and sometimes a little imitation butter extract as well to make a "buttery" syrup like they have at the stores. Since money was tight, we didn't buy a lot of packaged foods from the store, so anything that we could make on ourselves we usually made at home.
I discovered recently that this syrup we used to make for pancakes also works great in coffee. We got an espresso machine for Christmas and I used some of this in my homemade lattes, it's delicious and 1 Tablespoon is enough to sweeten and flavor your coffee!
How to make homemade coffee syrup
It's very easy to make your own coffee syrup (or pancake syrup) at home! It only takes a few ingredients (3-4) and less than 30 minutes to put this together.
Here are the steps for making your homemade coffee syrup (the full recipe card is at the end of the post):
Place the sugar, water, and cream of tartar in a small to medium sized saucepan.
Cook over medium heat, until it begins to boil.
Reduce the heat slightly to medium/low and cook at a low boil/simmer for 10 minutes, stirring occasionally.
Once the 10 minutes is done, remove from the heat.
Stir in your vanilla extract (or other flavorings you're using)
Pour into a bottle or jar, allow it to cool completely before storing it in the fridge.
Pour 1 Tablespoon into your coffee for flavor and sweetness.
This syrup will still get sugar crystals in the jar or bottle, this is normal and won't affect the syrup at all!
This syrup is naturally thick on it own once it cools, you don't need thickeners or anything in it. When it's hot right off the stove, it's thin, but it thickens as it cools.
The only problem we have run into with this syrup is that it tends to crystalize in the jar or bottle. I took some tips from Cook's Illustrated on how to get rid of the sugar crystals and the extra measures helped, but did not get rid of them completely.
One way to get rid of or reduce the sugar crystals is to add a bit of corn syrup (regular corn syrup is not the same as high fructose corn syrup). But this isn't ideal if you are trying to cut out corn or highly refined sugars.
How to clean the sugar crystals out of your jar or bottle
If you have sugar crystals in the bottom of your bottle when you're done with the syrup, just fill the jar with really hot water and let it soak to help dissolve and break up the sugar crystals so you can clean the jar.
Our recipe has fewer and smaller sugar crystals than the recipes I used to use, but the longer the syrup sits, the more crystals will form (in general).
If you have a bunch of sugar crystals or very big ones, heat some water to boiling and pour it into your jar or bottle (make sure it's a heat-proof glass jar or bottle) and let that soak for a while to loosen the sugar crystals.
This is also kind of a fun science illustration for kids about how crystals form and what they look like!
How to make homemade pancake syrup
If you want to make homemade pancake syrup, you can use this same recipe! Just use less flavoring (about 1/2 to 1 teaspoon of maple extract) than the coffee syrup recipe to make an easy table syrup for your pancakes or waffles.
This was a recipe that we made all the time when we were growing up. We actually didn't use real maple syrup at all, we just always used homemade syrup. It was cheap to make (way cheaper than real maple syrup) and it doesn't have high fructose corn syrup in it.
If you want to add other flavors besides maple in your pancake syrup, you can add a little vanilla or imitation/dairy free butter flavoring.
We used this homemade syrup for our gluten free waffle photos!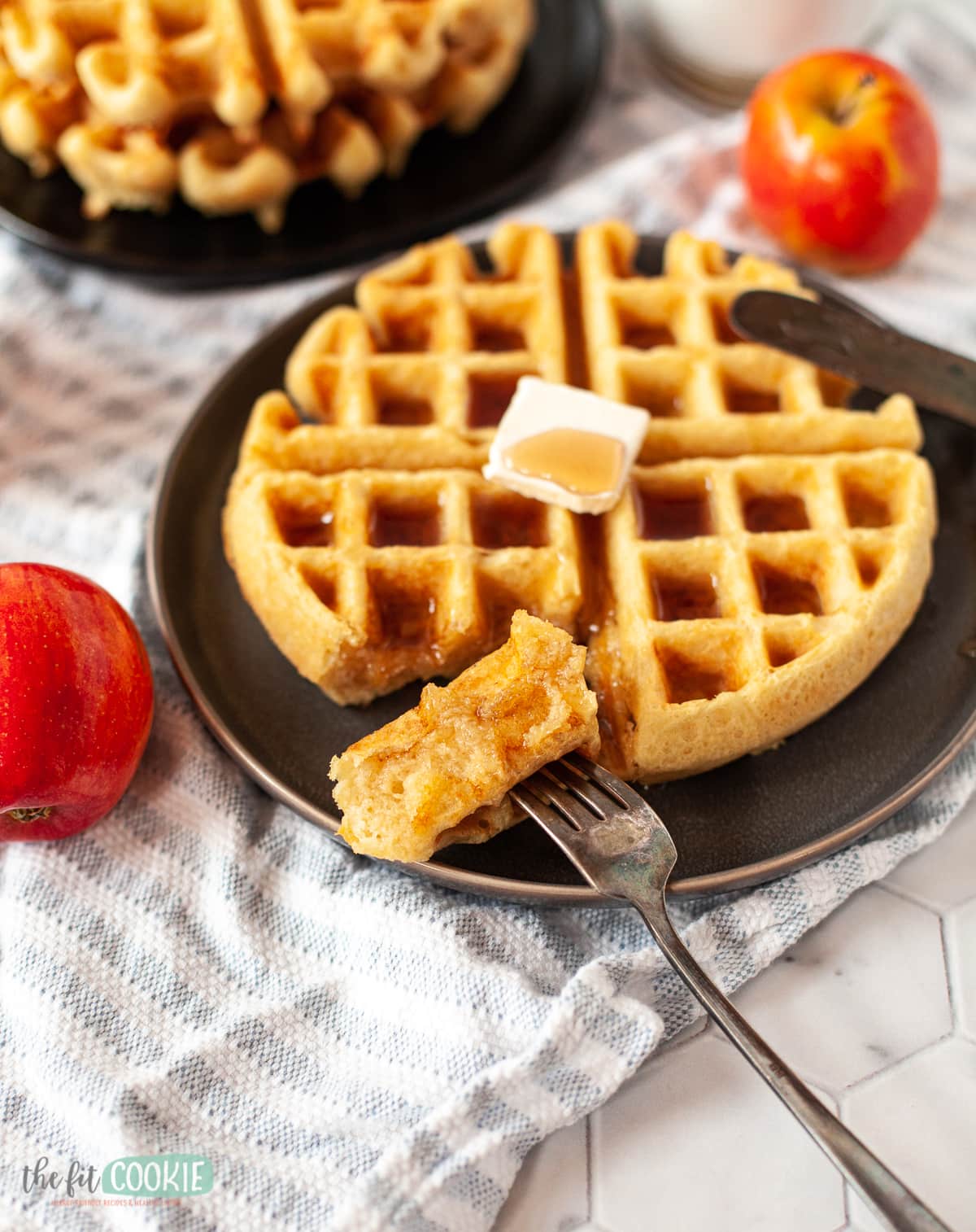 Can I make this syrup recipe lower in sugar?
I did try making this syrup with sugar alternatives and didn't have luck with it. It didn't look or taste anything like I wanted it to, so I gave up.
But I did figure out a way to reduce the sugar in this syrup: mix it 50/50 (or more) with some allulose syrup. If you mix this with allulose, you might add a bit more extract since you're essentially doubling your syrup.
Allulose syrup is low fodmap (unlike xylitol or erythritol syrups) so it's suitable for people with IBS. It has 1/10th the calories of sugar and is suitable for people with diabetes as well since it's not metabolized by the body like sugar is.
I've tried the Wholesome Sweeteners allulose syrup and it tastes pretty good and would work great mixed with this syrup to help reduce the sugar content.
You can also try using a sweetener like Swerve to cook up with your sugar, but I'm not sure how that would turn out since the erythritol syrup I tried to make didn't turn out like it was supposed to. If you try that, let me know in the comments!
Check out our other great recipes for coffee!
Homemade Vanilla Coffee Syrup (or Pancake Syrup)
Skip the store bought coffee syrup and make your own at home! Our Homemade Vanilla Coffee Syrup is easy to make with only 4 ingredients. This also works great as a homemade pancake syrup when you add maple extract!
Makes about 3/4 cup syrup (3/4 cup = 12 Tablespoons)
Gluten free, vegan; Free of: eggs, tree nuts, peanuts, soy, sesame, coconut
Print
Pin
Rate
Ingredients
1

cup

sugar

(we use Zulka unbleached cane sugar)

1/2

cup

water

1/8

teaspoon

cream of tartar

2

Tablespoons

vanilla extract

(if you're making pancake syrup, only use 1/4 to 1/2 teaspoon of extract)
Instructions
Put the sugar, water, and cream of tartar in a small heavy bottom sauce pan.

Heat over medium heat until it begins to boil, stirring occasionally.

Reduce the heat to medium/low heat and simmer for 10 minutes, stirring occasionally.

Remove from the heat and stir in the vanilla extract.

Allow to cool and pour into a jar. Store in the fridge for up to 4 weeks.

Our syrup is naturally thicker than Torani syrups and you'll need less of it for your coffee or tea, just about 1 Tablespoon for a cup of coffee (or less if you want less sugar).

Adding cream of tartar and simmering for 10 minutes both help to reduce sugar crystallization in the syrup, but you'll still probably notice some sugar crystals forming in this syrup at the bottom of your jar or on the sides after it's been stored for a few days. This is natural and it's still fine to use the syrup if it has sugar crystals in it.
Notes
For pancake syrup, follow the same recipe and instructions, just use 1/4 to 1/2 teaspoon of maple extract (or a combo of maple and vanilla)
Nutrition
Calories:
71
kcal
|
Carbohydrates:
17
g
|
Protein:
1
g
|
Fat:
1
g
|
Sodium:
1
mg
|
Potassium:
9
mg
|
Sugar:
17
g
|
Calcium:
1
mg
|
Iron:
1
mg
Sarah Jane Parker is the founder, recipe creator, and photographer behind The Fit Cookie. She's a food allergy mom and healthy living blogger based in Wyoming. Sarah is also an ACSM Certified Personal Trainer, ACE Certified Health Coach, Revolution Running certified running coach, and an ACE Certified Fitness Nutrition Specialist