Got a chocolate and peppermint craving? Skip the store-bought candy and make some Homemade Peppermint Patties, they're dairy free, peanut free, gluten free, and vegan.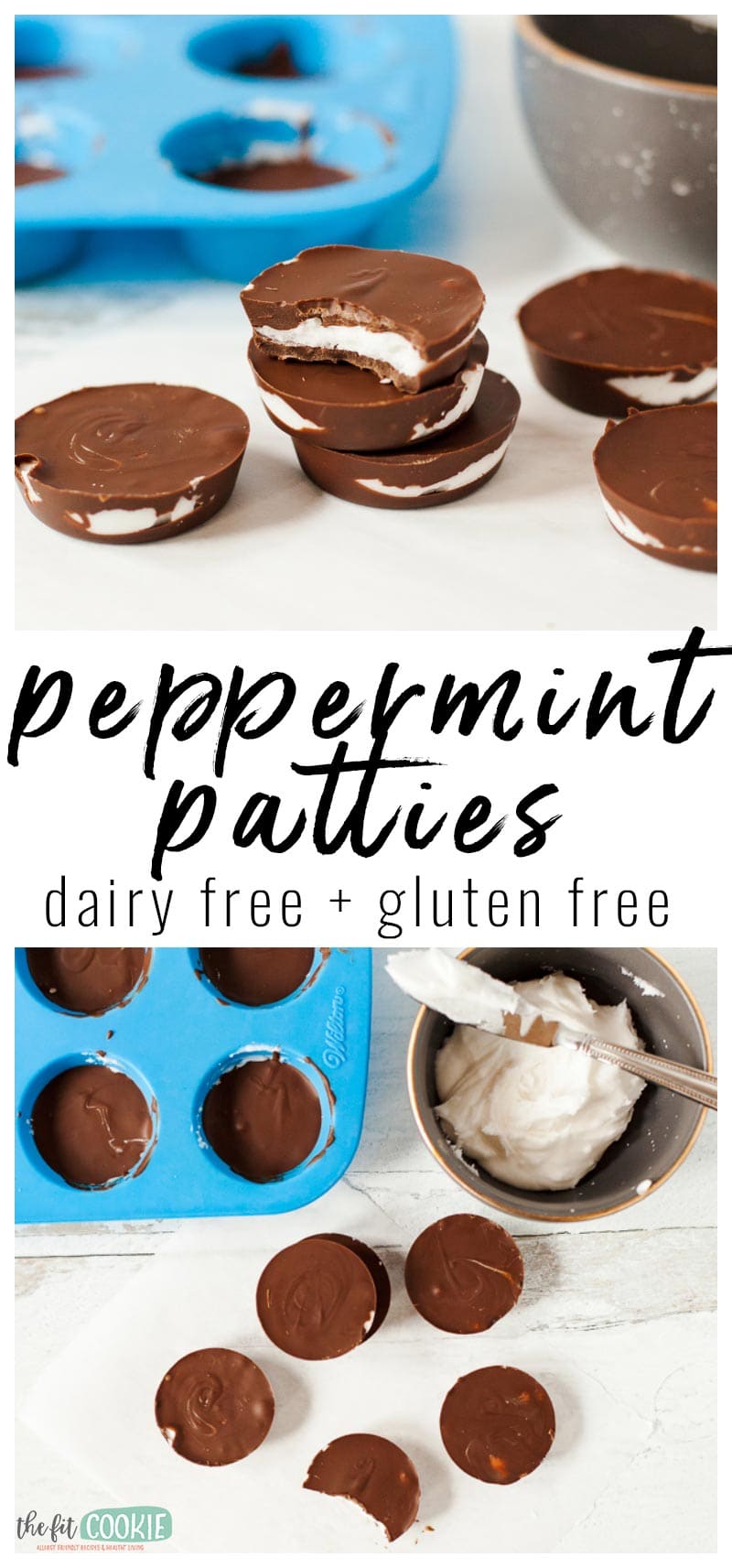 If you've followed The Fit Cookie for a while, you probably know that chocolate and peppermint is one of my favorite flavor combos (along with chocolate/coffee and chocolate/peanut butter/sunbutter). Actually, pretty much anything with chocolate is my favorite!
Every so often I like to update older recipes with newer photos and sometimes a newer recipe. I've been wanting to redo this Peppermint Patty recipe for quite a while now, and I decided December was the perfect time to update it for you.
These cool little chocolate peppermint candies are refreshing year round and allergy friendly. We made our Peppermint Patties gluten free, dairy free, soy free, vegan, peanut free, and tree nut free (if you're not counting coconuts as tree nuts).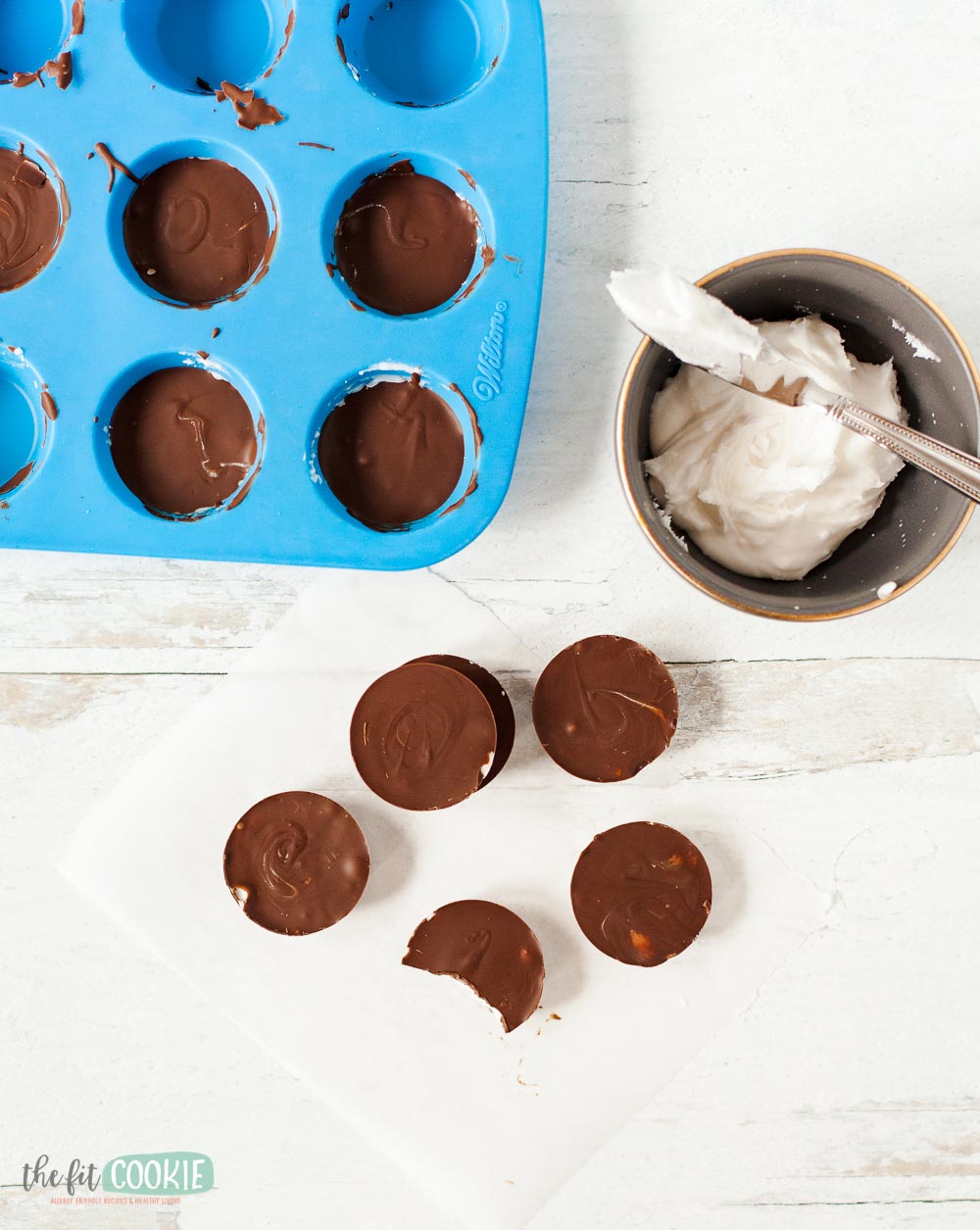 How to make peppermint patties
We love updating some of our older recipes regularly, and this recipe was originally from my first year of blogging back in December 2011!
A lot has changed since then (like my cooking style, writing style, food photography skills, etc.), so I wanted to make this post even better with updates.
I updated the recipe and the photos in this post, but don't worry: if you've made the original recipe and love it, I still included my original recipe for you at the very end of the post so it hasn't completely disappeared 😉
I found that my newer recipe tends to get soft and the coconut oil tries to separate at room temperature, so it's best to keep these stored in the fridge.
In my old recipe, I used a mix of both coconut oil and palm oil, but in my new recipe I switched to just coconut oil since some people don't like using palm oil.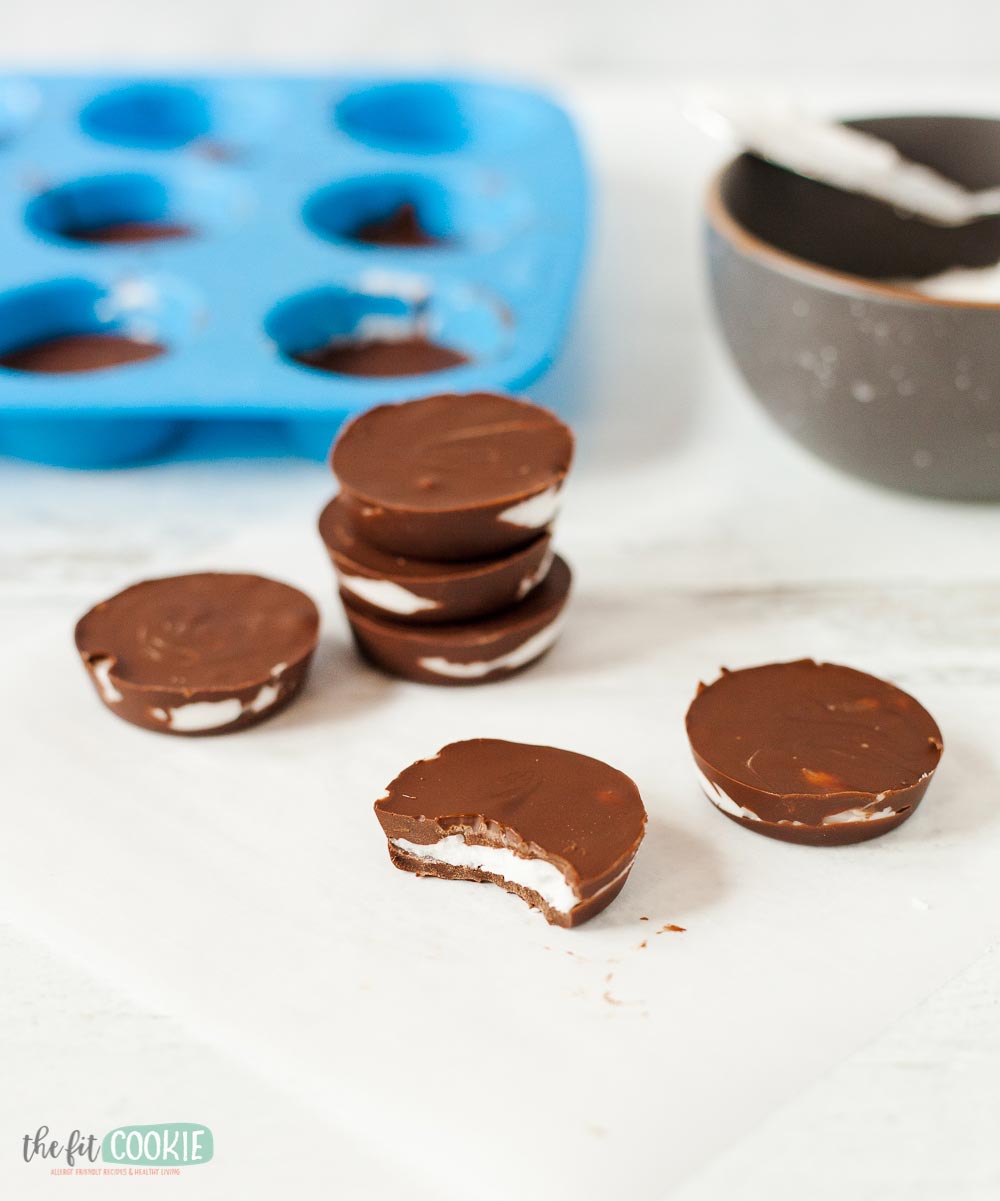 If you want to keep your filling more stable so that it doesn't melt as easily, you can use a mix of 50/50 palm oil and coconut oil in the filling if you want to keep your peppermint patties at room temperature instead of in the fridge.
Silicone mini muffin pans work amazingly for making homemade candy and peppermint patties, but if you don't have silicone mini muffin pans, you can use a regular mini muffin pan lined with mini muffin papers.
We made this recipe to fill a 12-well mini muffin pan, so this makes 12 peppermint patties. If you're using a larger mini muffin pan (like a 24-well pan), just fill half of it or double this recipe.
You can easily change the servings of our recipes by using the servings slider in the recipe card!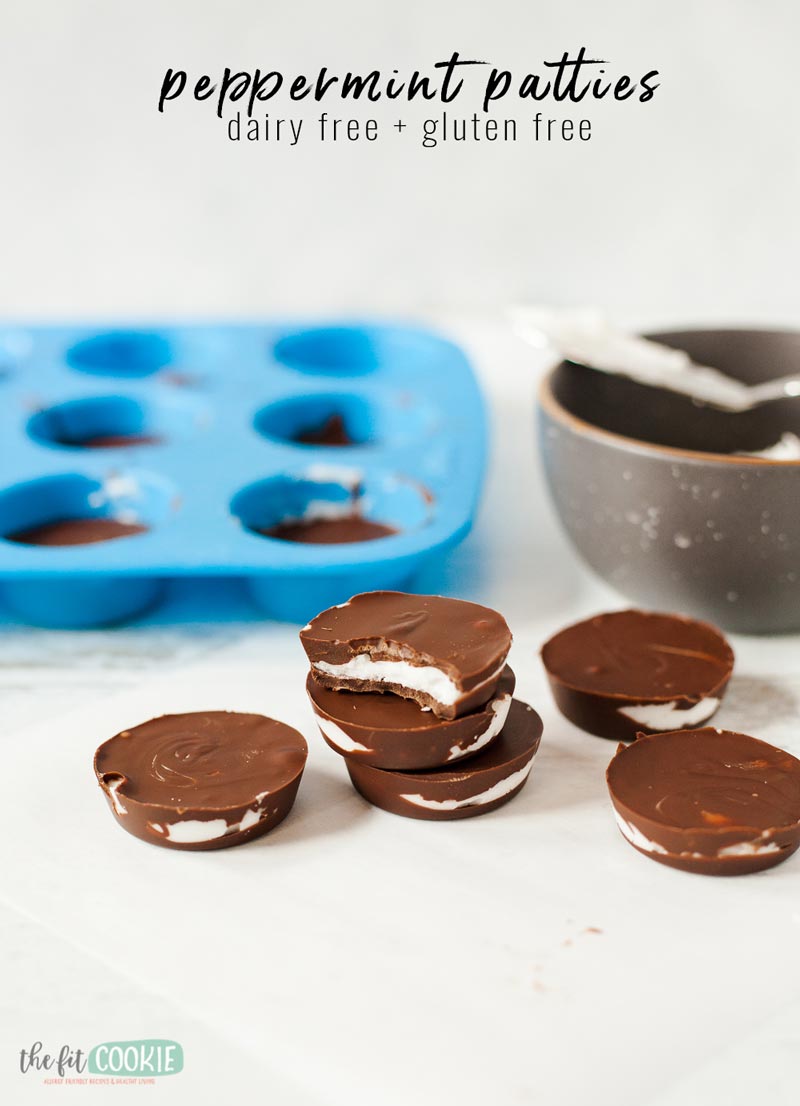 Check out our other dairy free candy recipes!
Dairy Free Peppermint Patties (Gluten Free and Vegan)
Got a chocolate and mint craving? Skip the store-bought candy and make some Dairy Free Homemade Peppermint Patties, they're also peanut free, gluten free, and vegan.
Gluten free, vegan, peanut free. Free of: soy, dairy, eggs, tree nuts (except coconut)
servings
Print
Pin
Rate
Instructions
In a small bowl set inside a small saucepan filled with water (for the double boiler method) or in a microwaveable bowl, melt the allergy friendly chocolate chips. If melting in the microwave, microwave for about 30-45 seconds at a time, stirring between eat heating, until melted.

Pour a little bit of chocolate into the bottom of each well of a silicone mini muffin pan, OR a mini muffin pan lined with mini liners. Pour about 1 teaspoon into the bottom of each well and chill in the fridge or freezer until set (about 15 minutes).

While the bottom layer of chocolate is setting, mix up your filling. In a medium bowl, beat together the coconut oil, powdered sugar, and peppermint extract (or peppermint oil).

Once the bottom layer of chocolate is set, place a nickel sized dollop of peppermint filling onto the set chocolate layer, flattening it a bit. Do this for each well of the mini muffin pan.

Pour the remaining chocolate on top of the peppermint filling, covering completely. Put back in the fridge or freezer to chill and set.

Once the chocolate has set, pop the peppermint patties out of the mini muffin pan and store in the fridge in an airtight container.
Nutrition
Calories:
155
kcal
|
Carbohydrates:
14
g
|
Protein:
1
g
|
Fat:
12
g
|
Saturated Fat:
9
g
|
Sodium:
1
mg
|
Fiber:
1
g
|
Sugar:
12
g
|
Calcium:
20
mg
|
Iron:
1
mg
Did you make this recipe?
Share a photo on Instagram and tag us @TheFitCookie!
We recently updated this recipe and the photos, but here's the old recipe for Peppermint Patties. It doesn't use powdered sugar and instead uses honey, so it's paleo (depending on the chocolate you choose).
If you're avoiding powdered sugar and want to keep things as natural as possible, this is a great recipe for you.
And boy, check out my old photos! My blog photography has come a long way in the past 8 years.
Peppermint Patties with Honey
Peppermint filling:
2 Tablespoons coconut oil
1 Tablespoon palm oil
¼ cup thick unfiltered and raw honey
⅛ teaspoon food-grade peppermint oil or 1/4 teaspoon peppermint extract
1 teaspoon coconut flour extra fine
Chocolate coating:
1 to 1 ¼ cup semisweet chocolate chips or solid chocolate coarsely chopped
2 to 3 teaspoons coconut oil
Instructions
Prepare a mini muffin pan with liners and set aside.
In a small bowl, combine coconut oil and palm oil and beat well with a hand blender until creamy. Add honey, peppermint oil, and peppermint extract and beat again until well blended. Sprinkle in coconut flour and beat until incorporated well. Taste test these and adjust the amount of mint to your liking. Set aside in the fridge to chill and thicken. Form 24, nickel-sized patties with the filling and set in the fridge to harden again.
In the meanwhile, put chocolate chips and coconut oil in a microwave safe bowl and microwave in 30 second increments until the chocolate is melted. Pour some chocolate into the bottom of each muffin liner just to cover the bottom (@ 1/2 teaspoon or so: you may have to spread the chocolate around a little). Put the muffin tin in the fridge to set the chocolate.
Once the chocolate has set up a bit, place a patty of filling into each muffin liner. Cover each with more melted chocolate to cover the peppermint completely. Let chocolate set completely by setting out at room temperature or returning to fridge. These should be stored in the fridge, but can be stored at room temperature (although the chocolate may soften up too much). Enjoy!
Sarah Jane Parker is the founder, recipe creator, and photographer behind The Fit Cookie. She's a food allergy mom and healthy living blogger based in Wyoming. Sarah is also an ACSM Certified Personal Trainer, ACE Certified Health Coach, Revolution Running certified running coach, and an ACE Certified Fitness Nutrition Specialist