Get a little help organizing your week with these free printable weekly planner pages! You can choose between several layouts and styles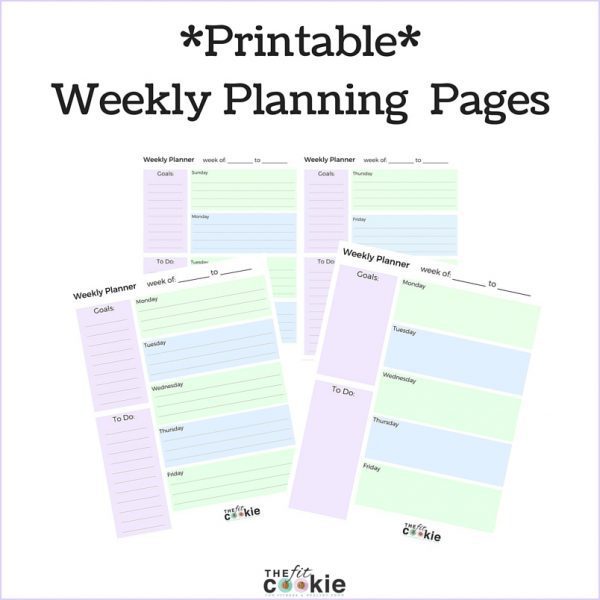 Hey friends! It's been a little while since I have made some fun printable sheets, so I decided to make some more! I almost forgot how fun these are to create 🙂 These fun printable planning pages are inspired by the Lorna Jane Productivity Pad.
The Lorna Jane Productivity pad was released last year and was only available in the Australia online shop for a while, but now I can't find it. Since I couldn't get that one, I set out to find a similar planner notepad and found one at Target that was nice. But then I realized that I could create my own fun colorful planner pages to share with you!
My planner notepad from Target
I had a bunch of fun creating these printable planner pages! There are 4 different page types you can choose from:
Two 7-day planner pages (one each with and without lines)
Two 5-day planner pages with and without lines (one each with and without lines)
I wanted to make 2 kinds of planner pages: one with lines with one without so if you like to doodle, work without lines, or write extra small or extra big, then you have some creative space in your planner. For those of you who want a little more structure to your pages, then there are lines for your writing
You can easily print the 2-page weekly planners on both sides of the same page to save some paper and space on your fridge, bulletin board, or in a folder.
These planners are good for just about anything! House cleaning/chore schedules, workout scheduling, craft or work project planning, family activities, and more. If you use these and have ideas of ways to improve the design and layout, I'm all ears and love to get constructive feedback from readers.
Here are the weekly planner pages you can choose from. Simply click on the name or the image to download the PDF file for each planner and you're set!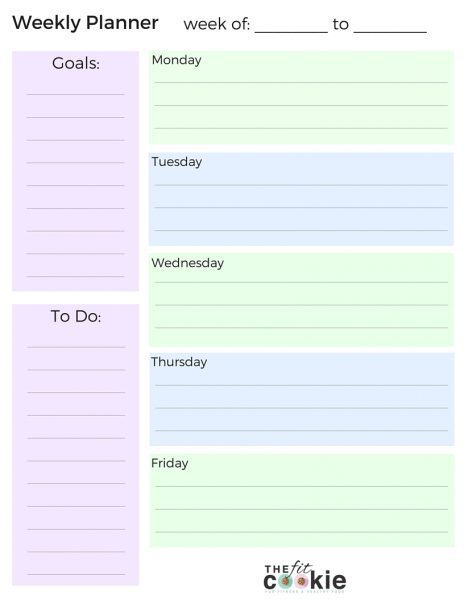 Check out some of my other printable planners:
Sarah Jane Parker is the founder, recipe creator, and photographer behind The Fit Cookie. She's a food allergy mom and healthy living blogger based in Wyoming. Sarah is also an ACSM Certified Personal Trainer, ACE Certified Health Coach, Revolution Running certified running coach, and an ACE Certified Fitness Nutrition Specialist