If you're like me and can't have beans due to food intolerances or digestive problems, then you might miss hummus (I do!). No worries! Make some of this low-carb and tummy friendly Roasted Cauliflower Hummus from Danielle at Natural Contents. It's paleo and vegan too!
I love hummus! When I was younger we used to go love eating hummus with crackers, pita, or veggies, and I added beans to my favorite clean eating dishes for added fiber and protein. But over the years, my body decided that it didn't like beans and legumes as much as I did, and we had to take a break – permanently.
To say that I miss hummus is an understatement. I used to spread it on tortillas to make wraps for lunch, and I found other creative ways to use it, too. But no matter how much I wanted to eat this delicious food, my body always fought back. Smokey baba ganoush is another favorite of mine that I can actually have, but it's not easy to come by around here.
When I connected with Danielle over at the Natural Contents blog, she sent me a copy of her new cookbook so I could share a recipe with my readers. I was looking through the cookbook and I immediately knew which recipe I was going to make and share: the Roasted Cauliflower Hummus recipe! I jumped at the chance to make some hummus that I could eat 🙂
Danielle's book, Good Food for Everyone, features 80 recipes that are whole-food and inspired by the local growing season. All the recipes are gluten, grain, and soy free, with plenty of dairy-free, paleo, and vegan options! The Roasted Cauliflower Hummus recipe I'm sharing from the book happens to be paleo and vegan as well, so it fits many diets.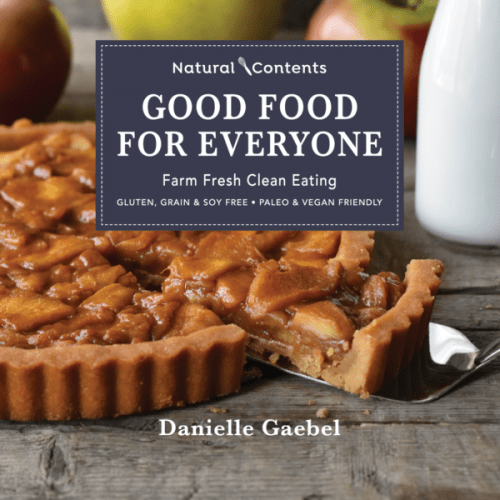 I added a couple of my own notes to this recipe after making it myself:
I lined the cookie sheet with aluminum foil for easier clean-up
40 minutes seemed too long for my lemons (they almost burned and there wasn't too much juice left), so I would recommend just 25 minutes for the lemons too
I actually forgot to put the oil in this recipe! For some reason I completely forgot to add the oil and I ended up using a few Tablespoons of water to help with processing. It turned out fine! If you want lower fat in the recipe, that's an option.
If you find that processing isn't as smooth as you like, just add 1 Tablespoon of water or vegetable broth at a time to aid with processing
I loved the Cauliflower Hummus recipe, I used it with veggies, chips, and as a topping for chicken, and in tuna for tuna salad. Lots of ways to use it! If you want some other bean-free hummus ideas, check out my recipe for Bean-Free Zucchini Hummus (Zummus).
Roasted Cauliflower Hummus (Bean Free)
Make some of this low-carb and tummy friendly Roasted Cauliflower Hummus from Danielle at Natural Contents. It's paleo and vegan too!
Paleo, vegan, gluten free; Free of: dairy, soy, eggs, beans, nuts
Print
Pin
Rate
Ingredients
1

medium cauliflower

1-1/2 pounds – cut into florets

2

large lemons

halved

1

small head garlic – stem and dirt removed but kept in skin

3

Tablespoons

extra virgin olive oil

1 ¼

teaspoons

sea salt

½

teaspoon

fresh cracked pepper
Instructions
Preheat oven to 425 degrees F. (My note: Line the cookie sheet with aluminum foil for easier clean up)

Spread cauliflower onto baking sheet. Place lemons on the same pan, halves flat side down.

Put garlic in a small foil packet and close.

Roast garlic for 25 minutes; cauliflower and lemons for 40 minutes (My note: I found 40 minutes to be too long for the lemons, I would recommend 25 minutes for the lemons as well)

Allow the garlic to rest in foil 10 minutes Then open packet and pop the garlic cloves out of their skins. Set aside. (My note: cut the top off the head of garlic to make this step easier)

Allow cauliflower and lemon to cool 10-15 minutes. Once cool, squeeze lemons into a small bowl removing seeds.

Using a food processor with the S blade, add cauliflower, lemon juice, roasted garlic, olive oil, salt, and pepper. Process until smooth, about 1-3 minutes. Scrape bowl and run again to incorporate small bits.

Scoop into a serving dish or jar and refrigerate until cold. Serve with fresh vegetables or crackers

Enjoy!
Notes
Danielle's Tip: Roasting the three main ingredients adds another level of flavor and gives the lemons a deeper concentrated taste. With that said, juice from un-roasted lemons will do just fine.
Nutrition
Calories:
108
kcal
|
Carbohydrates:
11
g
|
Protein:
0
g
|
Fat:
7
g
|
Saturated Fat:
0
g
|
Cholesterol:
0
mg
|
Sodium:
139
mg
|
Potassium:
473
mg
|
Fiber:
4
g
|
Sugar:
4
g
|
Vitamin C:
19.2
mg
|
Calcium:
9
mg
|
Iron:
0.3
mg
Did you make this recipe?
Share a photo on Instagram and tag us @TheFitCookie!
Sarah Jane Parker is the founder, recipe creator, and photographer behind The Fit Cookie. She's a food allergy mom and healthy living blogger based in Wyoming. Sarah is also an ACSM Certified Personal Trainer, ACE Certified Health Coach, Revolution Running certified running coach, and an ACE Certified Fitness Nutrition Specialist