Disclosure: This post may contain affiliate links. I receive a small commission at no cost to you when you make a purchase using my links.
If you love chunky cookies with lots of goodies in them, you're in for a treat! These Gluten-Free Wyoming Cowboy Cookies are filled with coconut, oats, chocolate chips, and sunflower seeds and are made without traditional pecans, so they are allergy-friendly (as well as dairy and egg-free!)

To celebrate our wonderful nation and the amazing diversity of our country in cookie form, Bob's Red Mill has 50 cookie recipes, one from each state! Come visit the United States of Cookies website to check out the cool cookies from every state.
No matter your political views, we can all agree on this: cookies are awesome! Since each state has something unique to share, Bob's Red Mill gathered 50 bloggers from around the US to create cookie recipes to share their state. I'm creating the cookies for Wyoming!
Cowboy are made for Wyoming 😉 Wyoming is called the Cowboy state, and the bucking horse and rider is a registered trademark for the State of Wyoming. Our state has a rich history of ranching, and cowboys and cowgirls are the incredibly hard working people that have helped to establish and shape our state.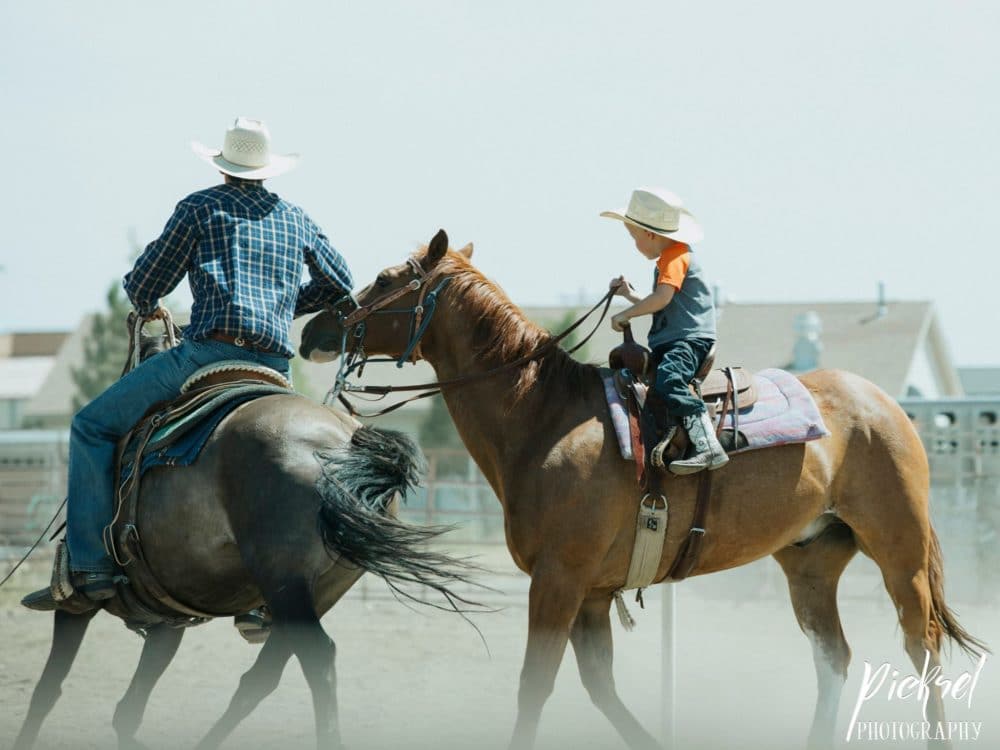 Photo taken by Becky Pickrel
The Bob's Red Mills Gluten Free 1-to-1 Baking Flour blend is perfect for these cookies: the white rice flour and starches creates a nice crumb and chewiness, the brown rice flour and sorghum flour adds protein for good body and texture, and the xanthan gum helps to keep everything together perfectly without the need for eggs!
I don't typically use flour blends in my recipes, but I have been very happy with the results using this blend from Bob's Red Mill! These cookies are amazing with it and there is no need for eggs in this recipe at all.
The Bob's Red Mill Gluten Free 1-to-1 Baking Flour is formulated to be great for making cookies, brownies, muffins, cakes, and more, without the need for extra specialty ingredients. This flour makes a great replacement for wheat flour in everyday baking!
Just make sure to always measure your flour by loosely scooping it out of the bag and into the measuring cup with a spoon. Don't scoop the flour with your measuring cup, or pack/shake your flour into the measuring cup. Regardless of the flour you use, this is always a good rule of thumb for the best results with baking.
The Bob's Red Mill Gluten Free 1-to-1 Baking Flour is amazing!
Funny story with these cookies: it took me quite a while to get the right texture in these bad boys without the use of eggs and using a totally new flour blend. I initially spent 2 days creating the recipe and making 8 batches of cookies to get them just right.
They were small batches, but it was still a ton of cookies! My husband ended up taking half of them to work with him since we couldn't eat them all.
I was determined to create the perfect cookie recipe!
I started my recipe creation early so I could be way ahead of the game getting the recipe and photos done early. After 7 or 8 batches (I lost track) I finally hit on the perfect blend of ingredients – these cookies were amazing!! Got the photos done and (they looked fantastic!) and I was way ahead of schedule!
But then almost a week later I noticed something: I forgot to include oats in my cookies. Cowboy cookies always have oats in them.
Gah!! How on earth could I have forgotten the oats? Okay, back to the drawing board.
Got back into the kitchen to make up these cookies again, and since oats change the texture a bit, I had to tweak the recipe some more. Fortunately since I had my base recipe figured out, I didn't have to make too many adjustments or too many more batches of cookies.
After all was said and done, I finally got this recipe just right after only 10 batches… Lots of work for this recipe, but it's worth it!

Dairy Free Wyoming Cowboy Cookies (Gluten-Free)
Gluten-free; FREE OF: dairy, eggs, soy, peanuts, tree nuts (except coconut)
Ingredients
1

cup

+ 2 Tablespoons Bob's Red Mill Gluten Free 1-to-1 Baking Flour

1/2

teaspoon

salt

1/2

teaspoon

cinnamon

1/4

teaspoon

baking soda

1/2

cup

packed brown sugar

1/3

cup

palm oil shortening

1/4

cup

rice milk

1

teaspoon

vanilla

1/3

cup

unsweetened shredded coconut

1/3

cup

chocolate chips

1/3

cup

old fashioned oats

1/4

cup

sunflower seeds

optional, OR chopped pecans if you don't have nut allergies
Instructions
Preheat oven to 350 degrees F

Line cookie sheets with parchment paper and set aside

In a medium bowl, whisk together the flour, salt, cinnamon, and baking soda. Set aside

In a large bowl, combine the brown sugar, palm oil, and vanilla with a hand blender until mixed well

Add the flour mixture to the brown sugar mixture along with the rice milk and beat to combine until a dough forms

Add the coconut, chocolate chips, oats, and sunflower seeds (if using) to the dough and mix well either with a hand mixer or a spoon by hand

Pinch off 1 Tablespoon dough and roll into balls, place on the parchment lined cookies sheets about 2 inches apart and lightly flatten with your hands. The dough should not be sticky but easy to roll

Bake for 12 minutes in the preheated oven

Allow cookies to cool on the pan for about 5 minutes before moving to a wire rack to cool completely.

Enjoy!
Notes
Traditionally, Cowboy Cookies have chopped pecans in them, but since my daughter has tree nut allergies we skipped adding it to these cookies and used sunflower seeds instead.
Nutrition
Calories:
110
kcal
|
Carbohydrates:
14
g
|
Protein:
1
g
|
Fat:
5
g
|
Saturated Fat:
2
g
|
Polyunsaturated Fat:
0
g
|
Monounsaturated Fat:
0
g
|
Trans Fat:
0
g
|
Cholesterol:
0
mg
|
Sodium:
70
mg
|
Potassium:
28
mg
|
Fiber:
0
g
|
Sugar:
6
g
|
Vitamin A:
0.1
%
|
Vitamin C:
0
%
|
Calcium:
0.9
%
|
Iron:
1.4
%
I was selected for this opportunity as a member of Clever and the content and opinions expressed here are all my own.
Sarah Jane Parker is the founder, recipe creator, and photographer behind The Fit Cookie. She's a food allergy mom and healthy living blogger based in Wyoming. Sarah is also an ACSM Certified Personal Trainer, ACE Certified Health Coach, Revolution Running certified running coach, and an ACE Certified Fitness Nutrition Specialist