Looking for a cool treat on hot summer days? These Caramel Cookie Dough Ice Cream Sandwiches really hit the spot, and you won't believe that they're gluten free, dairy free, and vegan!

Finally, another recipe!
If you've been reading for a while, you know that I have been pretty busy with my latest project (my first online fitness program) and haven't had a lot of time to post recipes regularly. We officially launch on Monday, July 17th, so that has taken up a lot of my free time these days, but I really do miss creating and photographing new recipes!
I'm trying to squeeze in some posts semi-regularly while I've been working on that program, but lately it has been sporadic at best. No worries: once my program launches and I'm back from my trip to BlogFest (next week!), I'll be posting more regularly again. I'll also be posting some BlogFest recaps as well before the end of July, yay!
But the recipe dry spell has ended today with these amazing Caramel Cookie Dough Ice Cream Sandwiches! Over the next couple weeks, I'm partnering with the Go Dairy Free blog and So Delicious Dairy Free for their #FrozenFridays recipe contest!
These little ice cream sandwiches not only have cookie dough in the ice cream, but the cookie base is also made of unbaked chocolate cookie dough. Double the cookie dough! Since there's no eggs in this cookie dough, it's totally safe to eat raw (and completely delicious, too).
This recipe is actually easier to make than it looks: since the cookie top and bottom are unbaked cookie dough, it saves a ton of time. Plus the caramel sauce is a cinch to make, too, so this recipe comes together pretty easily, most of the time is spent on letting everything freeze.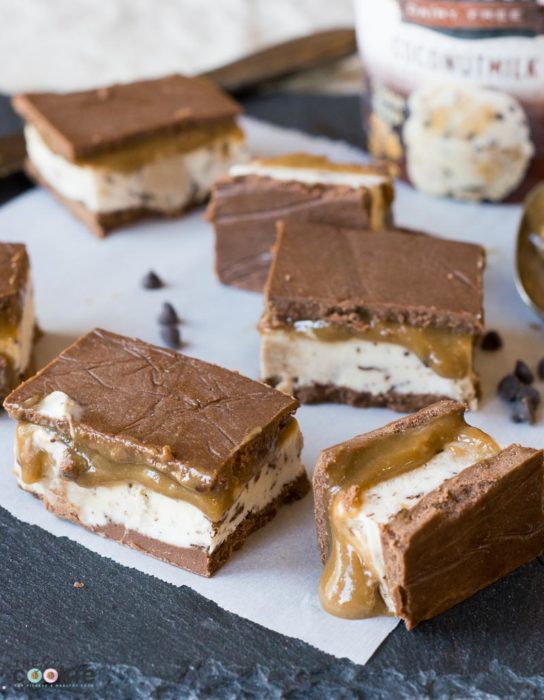 I used plastic wrap for the cookie dough layers, but if you use parchment paper instead, you won't end up with those funky looking wrinkles in the cookie dough. I didn't realize they were all wrinkly until later, but that's okay, it gives the dessert character 😉
No one would guess that these Caramel Cookie Dough Ice Cream Sandwiches are gluten free, peanut free, dairy free, and vegan!
My kids loved these, and were so excited that there was a decadent ice cream treat that they could eat. We had some friends try these ice cream sandwiches as well, and they didn't even know they were allergy friendly. Win!
Heat treating flour for the cookie dough
Update: we recommend that you heat treat your flour before using it in this recipe since it won't be baked (just like with our edible cookie dough and brownie batter).
Just preheat your oven to 350° F, spread your flour on a clean and dry cookie sheet, and bake for about 5 minutes. Allow it to cool completely before using in this recipe!
Dairy free caramel alternatives
For this recipe, we made a super simple "caramel" with SunButter and maple syrup since it's easy and delicious!
But if you want a real caramel for these ice cream sandwiches, you can make a real dairy free soft caramel for these using one of our recipes for dairy free caramel and reducing the liquid a bit to make it a little thicker than sauce similar to how we did our caramel apples.
The caramel will thicken and stiffen up as it freezes, too, so don't make it too thick or it might be hard to eat. Our dairy free caramel is delicious and is a great option for these ice cream sandwiches!
Check out our other dairy free frozen treat recipes!
Caramel Cookie Dough Ice Cream Sandwiches
Want a cool treat on hot days? These Caramel Cookie Dough Ice Cream Sandwiches are amazing and you won't believe that they're gluten free and vegan!

Gluten free, Vegan; Free of: dairy, eggs, soy, peanuts
servings
Print
Pin
Rate
Ingredients
Ice Cream Layer:
1

pint

So Delicious Coconut Milk Cookie Dough Ice Cream
Instructions
In a medium-size bowl, beat together with a hand mixer the palm oil, maple syrup, and vanilla.

Beat in the sorghum flour, cocoa powder, and salt until a thick dough forms. Test taste the dough and add in stevia (blending again) to add sweetness to your liking. Set aside

In a small bowl, stir together the SunButter, maple syrup, and vanilla until smooth and well blended. Set aside.

Divide the cookie dough into 2 parts. Line a 8×8-inch pan with plastic wrap and press half the dough into the bottom of the pan. Remove and set aside (this will be the top layer of cookie dough).

Line the pan with parchment paper or plastic wrap and press the other half of the cookie dough into the bottom of the pan.

Spread 1 pint of softened So Delicious Coconut Milk Cookie Dough ice cream on top of the cookie dough base.

Pour the SunButter "caramel" on top of the ice cream and spread evenly.

Place the other half of the cookie dough sheet gently on top of the caramel layer.

Cover the entire pan with aluminum foil or plastic wrap and freeze for several hours or overnight (this will take at least 5 hours to freeze completely).

Once the ice cream bars are completely frozen through, remove the entire pan of bars from the pan by lifting up the parchement from the pan. Cut into 8-12 bars on a cutting board.

Enjoy soon after removing from the freezer, and store in an airtight container in the freezer
Notes
Eat these soon after removing them from the freezer – the SunButter caramel melts quickly!
Nutrition
Calories:
358
kcal
|
Carbohydrates:
41
g
|
Protein:
4
g
|
Fat:
21
g
|
Saturated Fat:
8
g
|
Cholesterol:
0
mg
|
Sodium:
76
mg
|
Potassium:
120
mg
|
Fiber:
4
g
|
Sugar:
26
g
|
Vitamin A:
10
IU
|
Vitamin C:
0.4
mg
|
Calcium:
56
mg
|
Iron:
1.1
mg
Did you make this recipe?
Share a photo on Instagram and tag us @TheFitCookie!
Sarah Jane Parker is the founder, recipe creator, and photographer behind The Fit Cookie. She's a food allergy mom and healthy living blogger based in Wyoming. Sarah is also an ACSM Certified Personal Trainer, ACE Certified Health Coach, Revolution Running certified running coach, and an ACE Certified Fitness Nutrition Specialist