If you're in the Black Hills area of South Dakota, check out the short and fun hike to Devil's Bathtub in Spearfish Canyon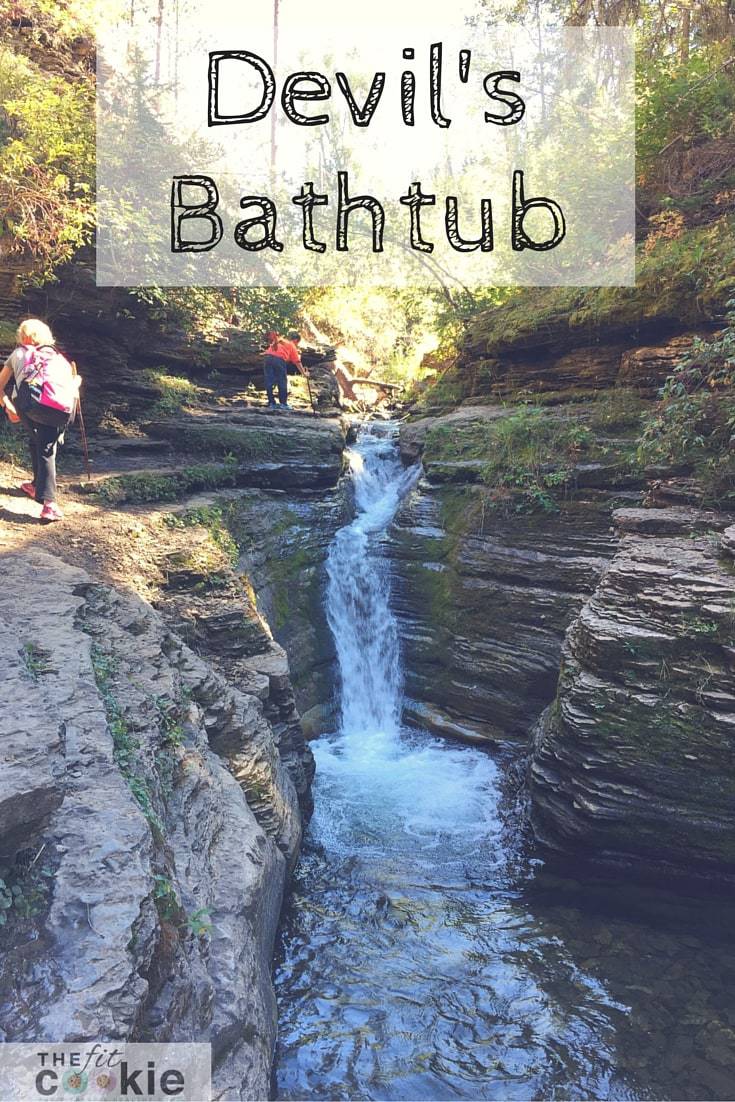 Hey friends! I'm so excited to share this post today. A fun family hike has long been overdue and hiking with my family is one of my favorite ways to have fun and unwind. It's so awesome to see the amazement and joy on my kid's faces when they find awesome new places and cool bugs and plants.
They thoroughly enjoyed this hike and had a blast hopping over the creek and wading in Devil's Bathtub.
My good camera decided to run out of battery while we were hiking so all of my photos are from my phone. Not top notch, but they will do! The hike wasn't very long, but it was a nice hike to get away and have a picnic.
This trail is also pretty busy: it's a favorite hike for locals so there are plenty of people coming and going on this trail, so if you come on the weekends you may have a hard time finding a parking spot.
Spearfish Creek right before the trailhead begins
Devil's Bathtub is considered one of those "secret" places in the Black Hills. Until the advent of the internet and social media, only locals knew about it and how to get there since it isn't marked on maps and there are no signs pointing you to the location.
I found out about it when a friend of mine posted photos on Facebook then I looked it up and found out how to get there from the South Dakota Magazine online.
To get there, go up Spearfish Canyon on the Spearfish Canyon Scenic Byway (Hwy. 14A) south towards Savoy. You'll drive just a few miles up the canyon and turn on Cleopatra Place. The turn off is just a mile or 2 past Bridal Veil Falls and it will be on your left as you drive south (the turnoff is East of the road).
Find a place to park along the road and walk across the bridge. You'll find the trailhead to your right. Start hiking!
Our favorite hiking essentials:
Cleopatra Creek
The trail is mostly narrow and splits in several directions quite a few times, but each trail takes you up the canyon and eventually to Devil's Bathtub. You won't get lost if you follow the basic direction of the creek. The creek you will follow up the canyon is Cleopatra Creek that connects to Spearfish Creek at the trailhead.
The hike really isn't that long: my watch said it was less than a mile up to Devil's Bathtub, but it took us a while since we crossed the creek several times. After a while the kids just waded through the creek and didn't care about getting their shoes soaked through!
Depending on which path you choose it crosses the creek several times. It's fun if you like to scramble over rocks and logs!
Some areas of the trail have some garbage left by hikers, pretty sad. A lot of people take their dogs, so we've stepped in fresh dog poo on the trail so keep your eyes open.
This is the false finish: once you reach this area, it's nice to look around, but this isn't the end of the trail. Keep hiking up to find Devil's Bathtub a little bit farther up the trail.
There are lots of pools and little areas to wade and swim, but the water is COLD! I didn't swim in it since I have a very low cold tolerance. Wading in it made my feet hurt lol.
Getting up to Devil's Bathtub
It's a bit hard to get some good photos with all the light and dark spots everywhere from the trees.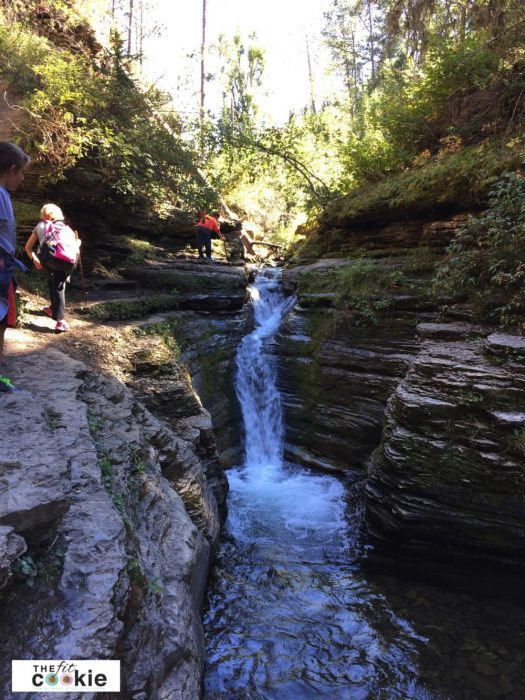 Devil's Bathtub
The kids were getting adventurous and climbed a little, and I had to quiet my inner helicopter mom and let them explore. It's good to cultivate a sense of adventure in your kids! Some areas toward the top were narrow and steep, so this isn't a place you can take a stroller up if you have little ones.
Beautiful places to wade and swim (if you can tolerate the cold) and there are a couple slide areas you can slide down too. Some of the rocks are slick with algae so be careful walking in the creek! The trail may keep going up past Devil's Bathtub, but I'm not sure since we decided to stop here and have lunch, then come back down.
Next time I come up we will try exploring up past Devil's Bathtub a bit and see what else is up there 🙂
It's sooo nice to get outside and hike to new areas and EXPLORE! It reminded me of how much I really missed doing this and that I need make time to do this more often.
Be adventurous, friends, and take some time to unplug for a day: it's good for your body and your soul!
Check out other places to see and hiking in Wyoming, the Black Hills, and Montana:
Sarah Jane Parker is the founder, recipe creator, and photographer behind The Fit Cookie. She's a food allergy mom and healthy living blogger based in Wyoming. Sarah is also an ACSM Certified Personal Trainer, ACE Certified Health Coach, Revolution Running certified running coach, and an ACE Certified Fitness Nutrition Specialist