Want to make your own pumpkin puree? It's easy to do in the Instant Pot! Make your own pureed pumpkin from fresh pumpkins if you want to avoid canned pumpkin or you just want to try something new. You can make this really thick like canned pumpkin, too!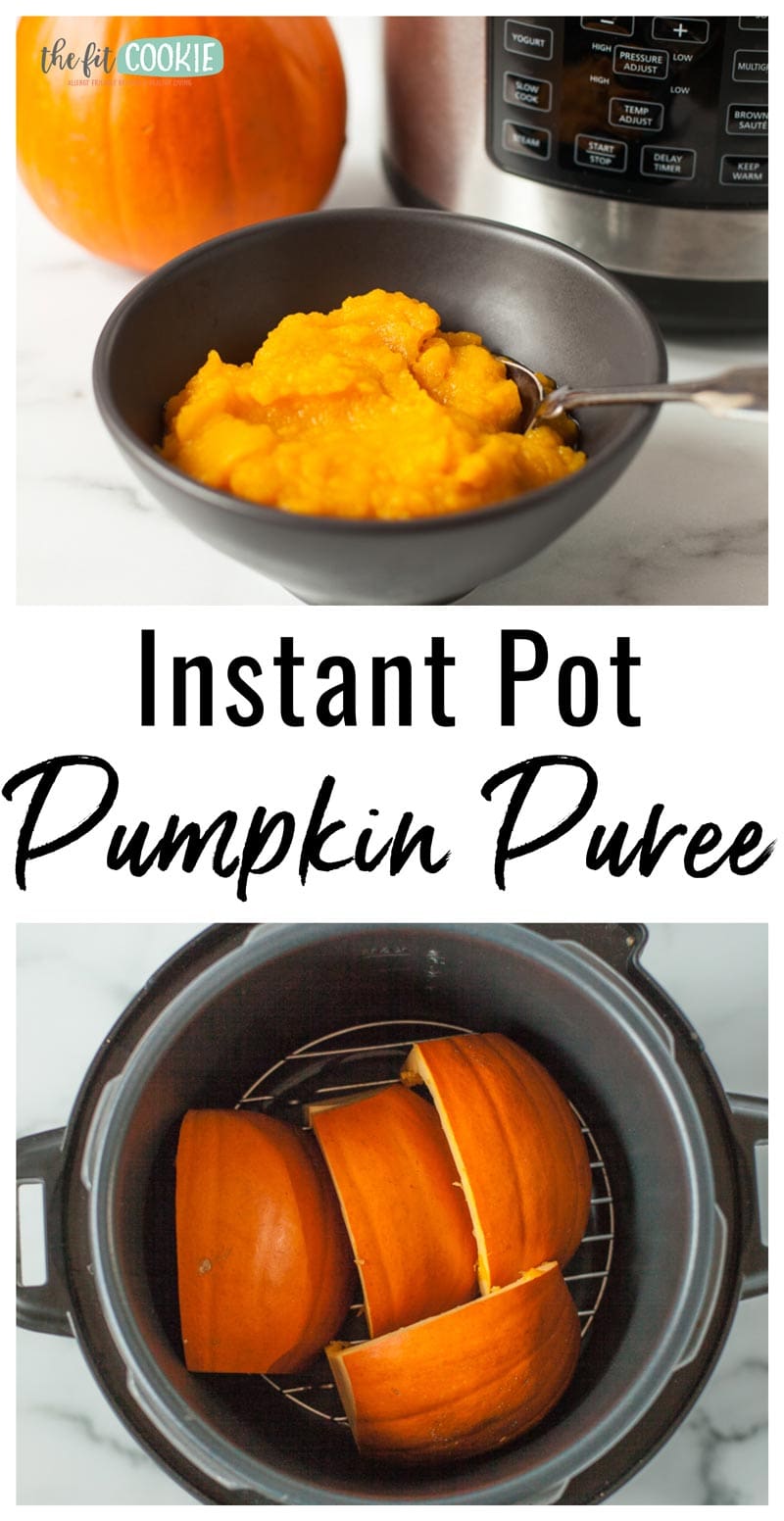 Ready for more pumpkin recipes (well, sort of)?
While this isn't a typical pumpkin spice recipe, this homemade pumpkin puree recipe will enable every pumpkin spice lover to still get their pumpkin fix even when their favorite store sells out of canned pumpkin (we've been there).
If you can find or grow pie pumpkins, you can make our own pumpkin puree for recipes easily with an Instant Pot or any electric pressure cooker.
You can use our homemade pureed pumpkin in pumpkin butter, cookies, cakes, soups, casseroles,… everything you'd use canned pumpkin for.
And if you're worried about your homemade puree not being as thick, we have a solution for that, too, that works great. Let's dive in.
How to make pumpkin puree in the Instant Pot
When you make homemade pumpkin puree, you'll want to make sure that you use pie pumpkins. Regular carving pumpkins are a different variety and are more watery and stringy than pie pumpkins, so they don't make great puree.
Here are the steps to make your pumpkin puree:
Wash the pie pumpkin thoroughly
Cut off the top of the pumpkin with the stem
Scoop out the seeds and innards
Cut into 4 pieces
Cook the pumpkin pieces in the Instant Pot on a steamer rack
Peel off the pumpkin skin (it falls off at this point!)
Puree the pumpkin with an immersion blender (or regular blender if you like)
Strain the pumpkin if you want it to be thicker
During cooking, the pumpkin pieces need to be up out of the water on a steamer rack. The water in this recipe is just to steam the pumpkin and add pressure, but you don't want the pumpkin pieces to actually sit in the water at all while it's cooking, or it will get too wet and soggy.
You'll notice that this puree is more yellow than orange like canned pumpkin, this is normal and okay! Your recipes may look more yellow than orange with this homemade puree.
If you don't have a steamer rack, you can try cooking the pumpkin directly in the water, but the pumpkin may fall apart easily into the water. If this happens, you can still puree the pumpkin and then strain it to remove any excess liquid.
Once this puree is done, it isn't quite as thick as canned pumpkin. You have two options: you can cook with it as-is and just reduce the liquids in the recipe you use it in, or you can strain the excess liquid out of the pumpkin puree.
If you want to use this homemade pumpkin in place of canned pumpkin in recipes, I would recommend straining the water out of it to get it as thick as canned pumpkin.
How to strain pureed pumpkin
To strain your pureed pumpkin and make it thick, you can either strain it through 2-3 layers of cheesecloth placed in a mesh strainer, or you can use a fine mesh nut milk bag to separate the liquid. I used a fine mesh nylon nut milk bag to separate the excess water from the pumpkin and it worked perfect!
I strained my pumpkin for about 30 minutes and got almost 1/4 cup of liquid out of it, so it was much thicker and better for recipes. You can let this strain for as long as you like to achieve the thickness you want for your pumpkin puree.
Our pumpkin puree freezes well! We freezed and thawed some pumpkin puree to test how well it does, and aside from some water separation (totally normal), it works great.
If you freeze and thaw your pumpkin but notice a little water/liquid on top of the pumpkin (depending on your container), just pour off the water 🙂 This probably won't happen if you strain your pumpkin before freezing.
Use this pumpkin puree to make some of your favorite pumpkin treats!
Instant Pot Pumpkin Puree
Want to make your own pumpkin puree? It's easy to do in the Instant Pot! Make your own pumpkin puree from fresh pumpkins if you want to avoid canned pumpkin or you just want to try something new.
Makes about 2 cups pumpkin puree, less when strained
Gluten free, paleo, whole30, vegan; Free of: nuts, dairy, eggs, soy, corn, sesame
cups
Print
Pin
Rate
Ingredients
1

pie pumpkin (about 6 inches in size)

1

cup

water
Instructions
Cut the stem off the top of the pumpkin, then cut in half and scoop out the seeds and inside of the pumpkin.

Cut the pumpkin into quarters. Place a metal steam rack or trivet into the bottom of the pressure cooker, add 1 cup of water to the pressure cooker and add the pumpkin pieces on top of the trivet.

Close the pressure cooker, set the steam valve to closed, set machine to "Steam" on CrockPot Express or "Manual" for 10 minutes.

Once cooking time has completed, turn off the "keep warm" function if it turns on automatically and allow the pressure to release naturally for 15 minutes, then quick release the rest of the pressure.

Separate the pumpkin flesh from the skin and throw the skin away. Using an immersion blender, puree the pumpkin until it's smooth.

If you want this to be thicker, let it strain over 2-3 layers of cheesecloth placed over a strainer in a bowl to separate some of the liquid out of the puree.

Use puree for pumpkin butter, soups, pies, cookies, and more.
Nutrition
Calories:
177
kcal
|
Carbohydrates:
44
g
|
Protein:
7
g
|
Fat:
1
g
|
Saturated Fat:
1
g
|
Sodium:
13
mg
|
Potassium:
2312
mg
|
Fiber:
3
g
|
Sugar:
19
g
|
Vitamin A:
57888
IU
|
Vitamin C:
61
mg
|
Calcium:
143
mg
|
Iron:
5
mg
Did you make this recipe?
Share a photo on Instagram and tag us @TheFitCookie!
Sarah Jane Parker is the founder, recipe creator, and photographer behind The Fit Cookie. She's a food allergy mom and healthy living blogger based in Wyoming. Sarah is also an ACSM Certified Personal Trainer, ACE Certified Health Coach, Revolution Running certified running coach, and an ACE Certified Fitness Nutrition Specialist