Easter is coming up soon! Do you need some ideas for filling Easter baskets? Here are 35 allergy friendly easter basket ideas for kids of all ages, and maybe some adults too 😉
Easter is in just a couple of weeks, and we're getting gifts ready! I always feel like it's worthwhile to plan well ahead for holidays to avoid the stress of last-minute scrambles to busy stores. Even on smaller holidays like Easter, it's nice to get a jump start, unless of course you buy a ton of candy too soon and it ends up getting eaten before the actual holiday. Not good!
Check out our list of great allergy friendly candies!
Holidays always get interesting when you or your family (or both!) have food allergies. We're always looking for treats the kids can have that don't include peanuts, tree nuts, dairy, and eggs. It can get tricky sometimes! We are constantly reading labels, and that habit has passed on to our kids.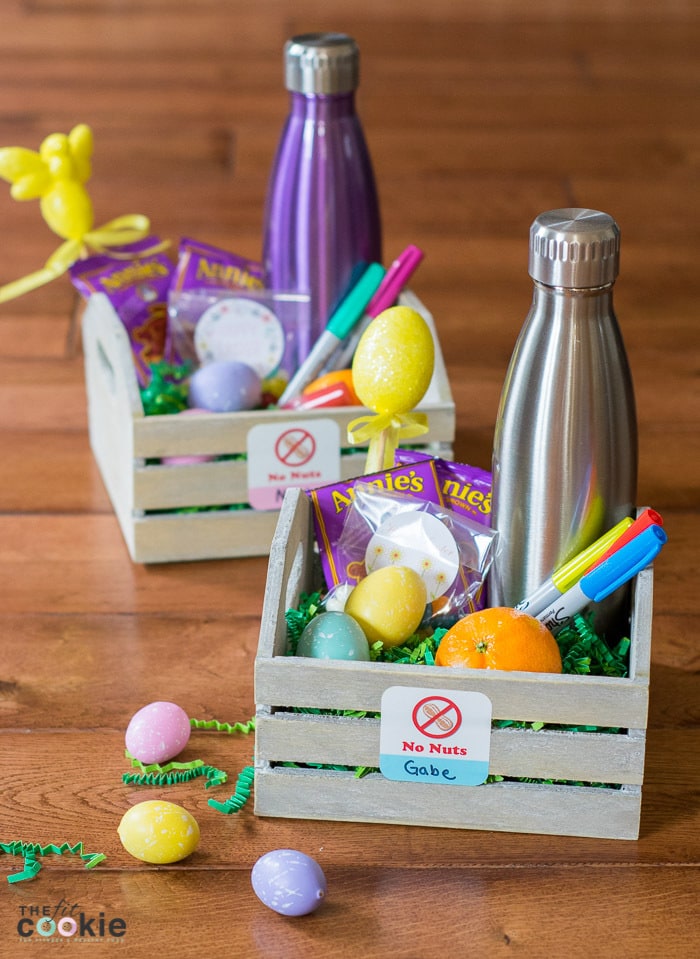 Now that our kids are a bit older, they are really good at reading labels on their own and making decisions about whether they should eat certain foods. They are very disciplined about it these days! Plus, they know that while it's nice to get treats around the holidays, those special times aren't all about the candy.
When I was figuring out what to put in my kid's Easter baskets this year, I wanted to include some of their favorite sweet treats, but I also wanted to include non-food gifts, like water bottles, lip gloss, and markers. There are so many non-food ideas for basket fillers, you can get pretty creative!
If you're needing some fresh ideas for Easter, here are 35 ideas for allergy friendly Easter basket fillers! These ideas are great for kids of all ages, so whether you have older or younger kids, there is something on this list for everyone:
Stickers
iTunes or Google Play gift cards
Headphones
Colored pens and markers
Special pencils (colored, mechanical, character)
Books
Puzzles
Lip gloss or chapstick
Makeup
Tie dye shirt kits
Painting or coloring sets
Jewelry making kits
Kid's cookbooks
Stuffed animals
Coloring books
Fruit
Fruit snacks or fruit leather (Annie's, Stretch Island, Welch's)
Jelly Beans (Gimbal's and Jelly Belly)
Chocolate bars or chocolates (Amore di Mona, Enjoy Life, and Free2B)
SunButter Cups (Free2B or homemade SunButter Jam Cups)
Licorice (YumEarth)
Lollipops and other candy (YumEarth; brands like SweeTart, Sour Patch Kids, Junior Mints, and Peeps do not contain nuts)
Roasted chickpeas (The Good Bean)
Snack bars (Enjoy Life)
If you're making up some Easter baskets and treat for friends and family with food allergies, it's a great idea to invest in some allergy labels and stickers. These really neat Easter and food allergy stickers on our Easter baskets are from StickerYou!
StickerYou is the only online platform where you can upload your own designs or artwork to create custom stickers, product labels, decals, temporary tattoos, iron-ons, and magnets. You can custom order just about any sticky product from them, including custom food allergy stickers!
You can customize these allergy stickers with names, or a blank space to write in names. These are great for Easter baskets, gifts, water bottles, lunch boxes, and anything else you can think of.
I love that the StickerYou food allergy stickers are high quality and won't leave residue behind! They are durable, but are still easy to remove and reposition if needed, they still stick well once removed and they won't leave gunk behind.
The premium vinyl StickerYou food allergy stickers are:
Writable with permanent marker
Leave no residue when removed
Waterproof
Microwave safe
Dishwasher safe
UV coated and fade resistant
Scratch resistant
Applies bubble free
Photo quality (you can upload photos to the design if you want!)
Color reproduction (you can match the colors of the labels to anything!)
Check out the StickerYou website and start creating some stickers!
Follow StickerYou on Facebook, Twitter, and Instagram
Sarah Jane Parker is the founder, recipe creator, and photographer behind The Fit Cookie. She's a food allergy mom and healthy living blogger based in Wyoming. Sarah is also an ACSM Certified Personal Trainer, ACE Certified Health Coach, Revolution Running certified running coach, and an ACE Certified Fitness Nutrition Specialist