Navigating food allergies with your kids can be tough! Here are some school snack ideas and tips for kids with food allergies from a food allergy mom.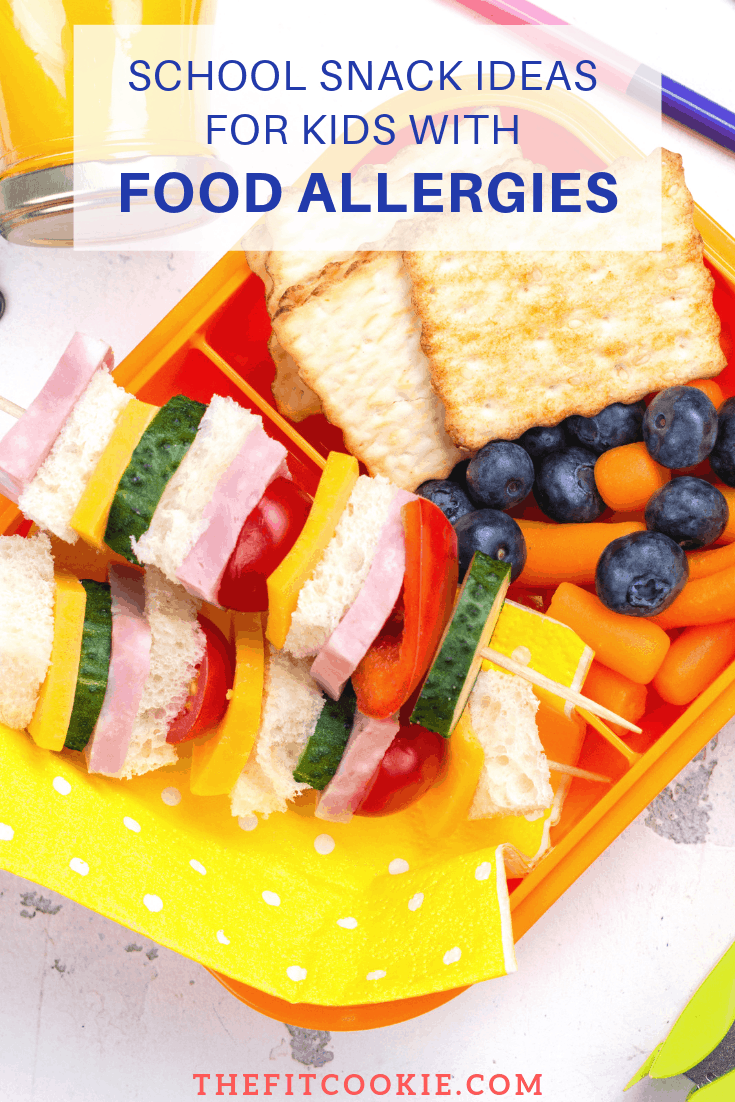 My original post was featured in My Life with Food Allergies (now merged with Gluten Free and More online). I updated the post and am re-sharing it here.
If you are a parent of a child with food allergies, you may have read the acerbic HuffPost article by Carina Hoskisson. If you haven't read it yet, hang on to your seat…
In a nutshell, Carina is bitter at having to accommodate kids with food allergies at her child's school.
Let's shed a tear for the inconvenience. She is lucky her kids don't have severe food allergies, that's an even bigger "inconvenience".
I could say many things about Carina and her attitude, but I don't want to stoop to her level. Instead of getting on my soapbox, I decided instead to help people by providing some healthy school snack ideas.
If you have kids with food allergies, this list may be nothing new, but it's a great resource for people who don't have special diets and might be scratching their head when faced with what to bring for school snacks. These snacks are mostly healthy, too. And no, Carina: air is not on the list.
School snack ideas for kids with food allergies
Fruit: unless a child is allergic to fruit, this is a safe and healthy choice. Dried fruit is another story: many are packaged in a facility with nuts, so always read the label on dried fruits.
Vegetables: baby carrots, celery sticks, and baby bell peppers all make great snacks.
Fruit snacks: just be sure to read the label as some have been packaged in a facility with nuts. Some good brands: FruitaBu and Stretch Island Fruit Company, Clif ropes, SunRype (check these – some are made in a facility with nuts), Annie's, and many others! There are plenty of good ones to choose from, but always read the label!
Applesauce: individually packed applesauce with no sugar added is a healthy choice and is usually safe (again, read labels).
Allergy friendly cookies & snack bars: Enjoy Life Foods and Cybeles's Free to Eat make lines of allergy-friendly cookies and snacks that are yummy (I personally prefer Enjoy Life Foods to Cybele's)! One of the moms in my son's class buys Enjoy Life Cookies for my son when it is her son's snack day. She recognizes that it is tough for my son to see everyone getting snacks he can't have, so she brings him his own treat 🙂 She is truly considerate and I am so thankful she takes the time to do this!
Allergy friendly versions of favorite snacks: pretzels, crackers, etc. An idea: bring regular crackers for the class, and special crackers for the child with food allergies.
Individual juices or "sodas" (like Izze, Zevia, etc). There are lots of fruit juices out there without added sugar that are affordable
Toys and trinkets: if you child is having a birthday, who says you have to bring food? Kids love pens, pencils, bracelets, glow sticks, tattoos, etc. and they aren't going to cause allergies unless someone has a latex allergy and you're sharing something that contains latex.
Here are some more healthy and allergy friendly school snack ideas!
Carrots with SunButter**
Whole grain crackers and SunButter
Homemade granola bars (check out this recipe for my gluten-free ones!)
Apple slices and cheese or lunchmeat (we use non-dairy cheese)
Natural lunchmeat rolls with fruit or veggies
Lettuce wraps filled with rotisserie chicken or natural lunch meat
Celery sticks with SunButter and raisins (Ants on a Log)
Apple slices with SunButter
Veggie slices with hummus
Pretzels or whole grain crackers with hummus
Roasted chickpeas (easy to make at home!)
**If your school or classroom is nut-free, you can use SunButter or another nut-free butter for your snacks. Use sunflower or pumpkin seeds in place of nuts in trail mixes and recipes
Tips for navigating school snacks and lunches
If your own child isn't the one with food allergies, play it safe and buy allergy-friendly packaged items when possible rather than trying to make homemade items allergy-friendly. I don't let my kids eat cake or cookies people bring to school even if they say it is nut-free since there is a risk of cross contamination and I don't know how or where it was prepared.
All that being said, I personally never put the obligation for my children's snack items on anyone else.
Here's are a few things we used to do when our kids were in elementary school:
Keep bags of pre-approved snacks in the school classroom cupboard
When my son was in first grade, snacks are brought in daily by parents and we rotate between kids and their parents. I packed a bag full of approved snacks for my son, and his teacher kept this in the cupboard and would let me know when it needed refilled.
When parents send fruit or fruit snacks, then he could have the same snack as everyone else. But if people bring a snack he can't have (like cookies, cake, etc.), he had a snack from his bag. Parents weren't obligated to bring anything special for my kids, although some did since they were really considerate 🙂
Pack snacks in your child's lunchbox
When my daughter was in 3rd grade, kids were responsible for their own snacks and her snack is packed in her lunchbox every day.
This makes it much easier to keep track of things! We didn't have to worry about kids bringing in snacks to share with everyone, the kids just brought their own and it worked out way better this way.
For birthday parties, my daughter's teacher would send me a text message at the beginning of the week when there were birthdays coming up so we could send a special treat for her.
Send special treats for class birthdays and holidays
Most of our kid's teachers were great about letting us know ahead of time about birthdays coming up so we could prepare a special treat for my kids.
On special occasions, I would usually try to make special treats, like Valentine's Day doughnuts, or our favorite cupcakes, cookies, etc. But if I didn't know far enough ahead of time, I'd send them with some Enjoy Life cookies or some Oreo cookies.
During school parties for holidays, I'd make something allergy friendly that everyone could have as part of their carry-in/potluck style holiday meal.
While the teachers try to keep people from bringing nut items to school, I didn't place an obligation on other parents to provide my kids with safe foods. Sometimes they don't read the labels correctly, or there is a lot of cross contamination in their kitchen.
It was a big gamble to feed my kids food made in someone else's kitchen, so we would play it safe and send our own snacks.
Check out our other great ideas for school!
Sarah Jane Parker is the founder, recipe creator, and photographer behind The Fit Cookie. She's a food allergy mom and healthy living blogger based in Wyoming. Sarah is also an ACSM Certified Personal Trainer, ACE Certified Health Coach, Revolution Running certified running coach, and an ACE Certified Fitness Nutrition Specialist