Thanksgiving is right around the corner, and we've gathered up a bunch of great gluten free dairy free Thanksgiving recipes to help with your holiday meal planning!
Happy upcoming Thanksgiving, friends! To help you with your Thanksgiving meal planning, I've gathered up a bunch of amazing allergy friendly recipes that are perfect for the holidays.
Every single recipe in this big roundup is gluten free and dairy free! There are also options that are low carb, nut free, vegan, and paleo. If you haven't already picked out your recipes for Thanksgiving, then you definitely need to browse this list.
Our Thanksgiving recipe roundup has everything you need for an allergy friendly holiday meal: veggie sides, salads, stuffing, sweet potato casseroles, turkey, pumpkin pie, and more.
These recipes aren't just for Thanksgiving, they are also great for Christmas holiday dinners and parties as well!
Check out our other gluten free and dairy free recipe roundups for the holidays!
Gluten Free Dairy Free Thanksgiving recipes
We organized these allergy friendly holiday recipes in this order for easier navigating:
Drinks, Breads, Appetizers, and Salads
Side Dishes
Main Dishes and Gravies
Desserts
I tried to include several unique variations of certain kinds of recipes, such as potatoes. Depending on your preferences and allergies, there are several potato side dishes to choose from! I also included some low carb or keto options as well.
This roundup includes recipes from our own website and recipes from other great bloggers! If you find some new allergy friendly bloggers here in our list, give them a follow on social media and their website!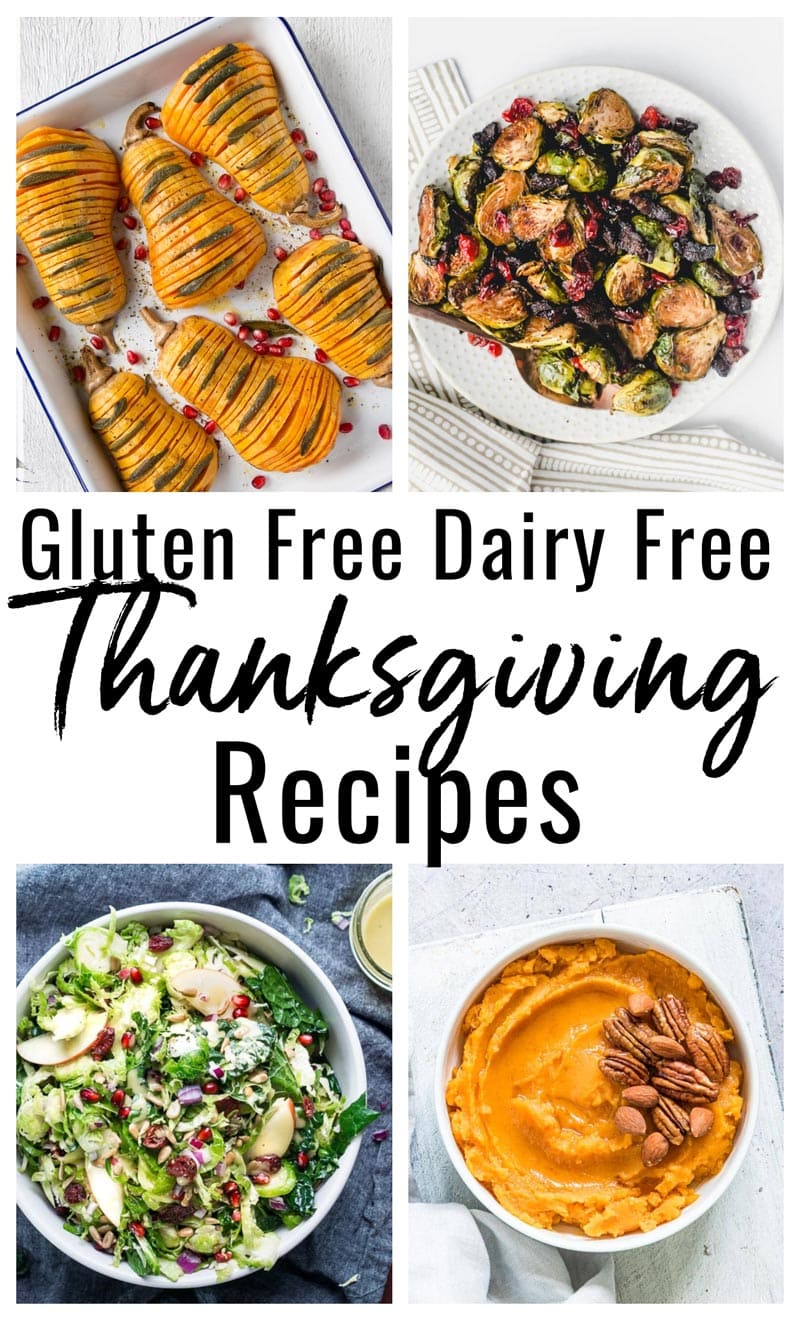 Sarah Jane Parker is the founder, recipe creator, and photographer behind The Fit Cookie. She's a food allergy mom and healthy living blogger based in Wyoming. Sarah is also an ACSM Certified Personal Trainer, ACE Certified Health Coach, Revolution Running certified running coach, and an ACE Certified Fitness Nutrition Specialist