Stay cool all summer with this delicious roundup of gluten free and dairy free ice cream recipes! Some recipes are healthy and some are decadent, but all are allergy friendly. We've also included plenty of paleo, vegan, keto, soy free, and nut free options as well.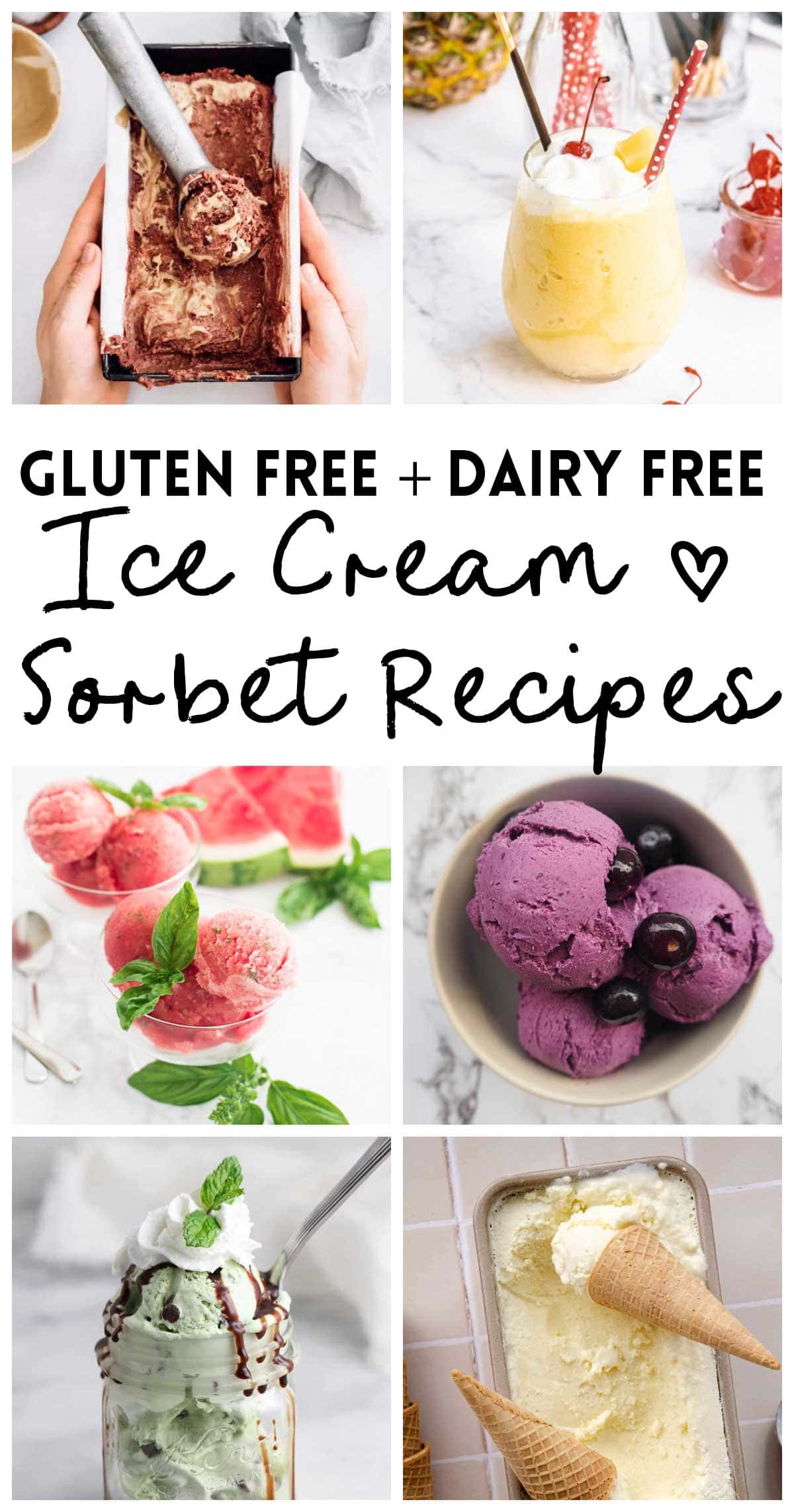 Hey friends! It's officially summer and it has been an unusually hot and dry here this year, perfect for homemade frozen treats.
While I love a great store bought dairy free ice cream (there are some amazing brands out there!), I also love making ice cream or sorbet at home. Making ice cream (and sorbet) at home:
Saves money (dairy free ice cream is notoriously expensive).
Is easy to customize to your specific allergens.
You can make bigger batches for sharing (make a quart of ice cream instead of just buying several pints for multiple people).
We have a couple great ice cream recipes in the works to share with you all as well that we will include in this list once they are posted.
Each time we post our own allergy friendly ice cream recipe, we'll add it to this roundup. So this list will continue to grow with great recipes!
There are also plenty of paleo, nut free, low carb/keto, soy free, and vegan ice cream options here. And if you're not a fan of chocolate or vanilla, there are lots of fruity flavors, too!
We're currently using the Hamilton Beach ice cream maker, which is affordable and works pretty good unless your mix freezes on the sides preventing it from turning… But I've had my eye on the Cuisinart soft serve ice cream maker, but it's rather expensive.
Our next ice cream maker will probably be the ice cream maker attachment for our KitchenAid stand mixer, it should be sturdier than the Hamilton Beach one we have.
Check out our other recipe roundups!
40+ gluten free and dairy free ice cream recipes
Here are the recipes! Just click through each link to the full recipe on each blogger's page. There are so many great allergy friendly recipes here to make your summer cool and sweet.
We've not only included ice cream recipes, but also nice cream recipes, sorbets, and an ice cream sandwich recipe, too. It's pretty amazing, but I might be biased since it's one of mine 😉
Sarah Jane Parker is the founder, recipe creator, and photographer behind The Fit Cookie. She's a food allergy mom and healthy living blogger based in Wyoming. Sarah is also an ACSM Certified Personal Trainer, ACE Certified Health Coach, Revolution Running certified running coach, and an ACE Certified Fitness Nutrition Specialist